CMHS UIL academic season is here! If you are interested, please come to the meeting Friday, 9/24 during advisory period!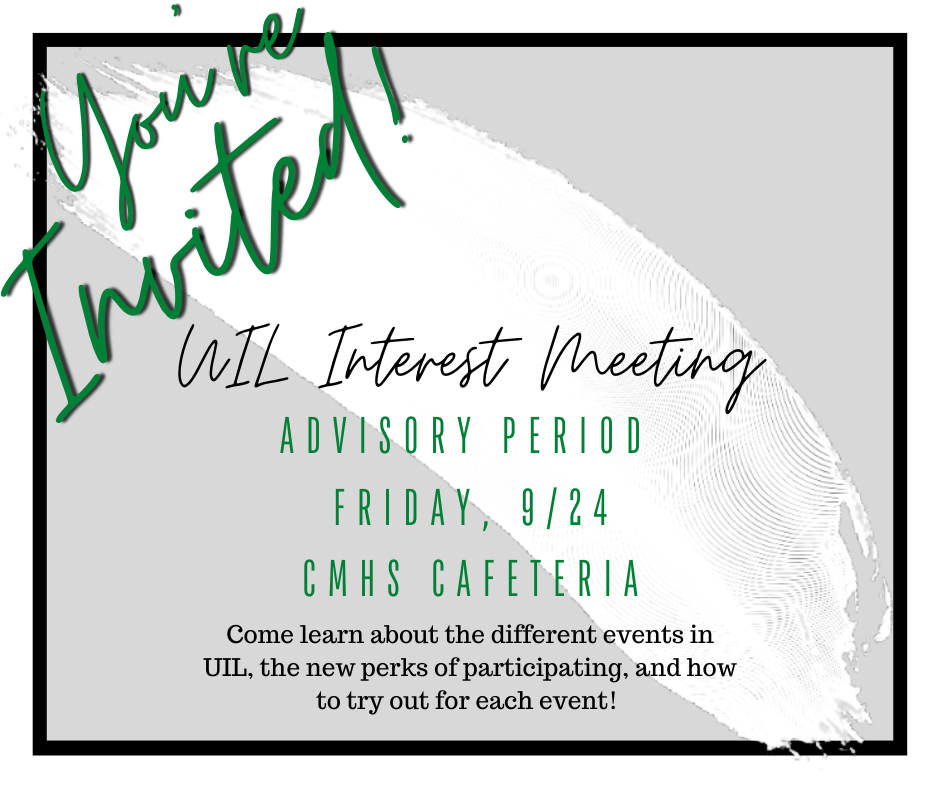 Here are our Spirit Days for the remainder of football season! Don't forget: There are incentives for the grade level that is the most spirited each week! Be sure to bring your A game!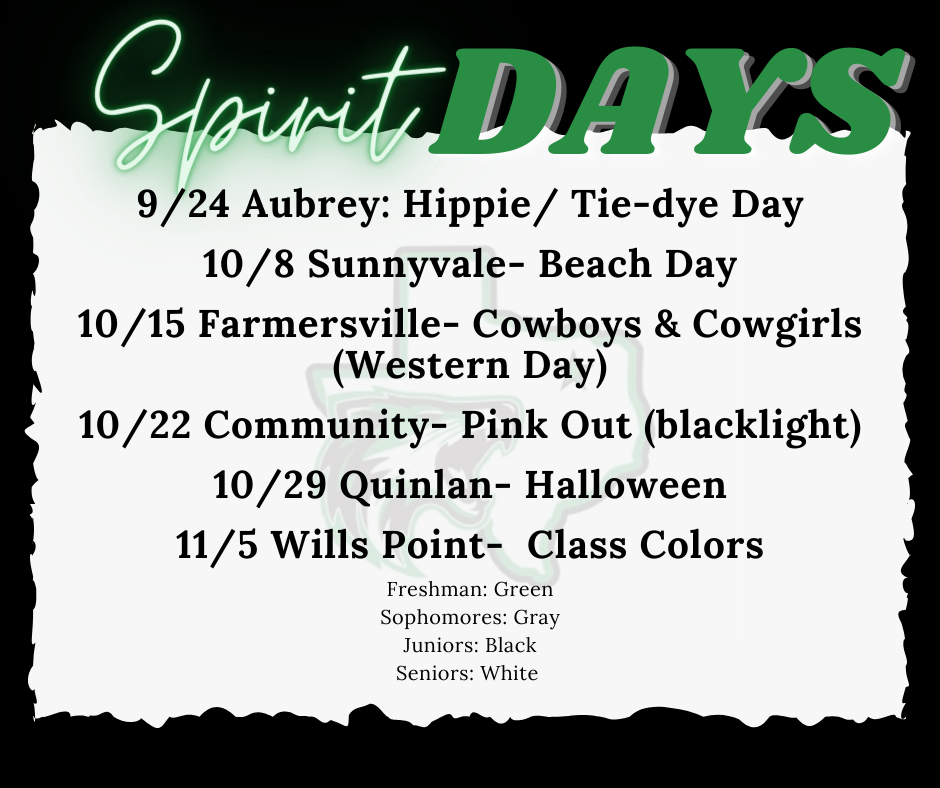 SEE YOU AT THE POLE!

Varsity Football travels to Aubrey this Friday. The stadium address is 510 Spring Hill Rd, Aubrey, TX 76227. All tickets will be sold at the gate-cash only.

Check out this awesome photo that yearbook staff member Jolea Crow took at the football game! Our staff works hard to capture memories for our yearbook that show just how amazing it is to be a Caddo Mills Fox!
Congratulations to Mighty Fox Band member Logan Black for making Area Jazz and taping for State Jazz on trombone!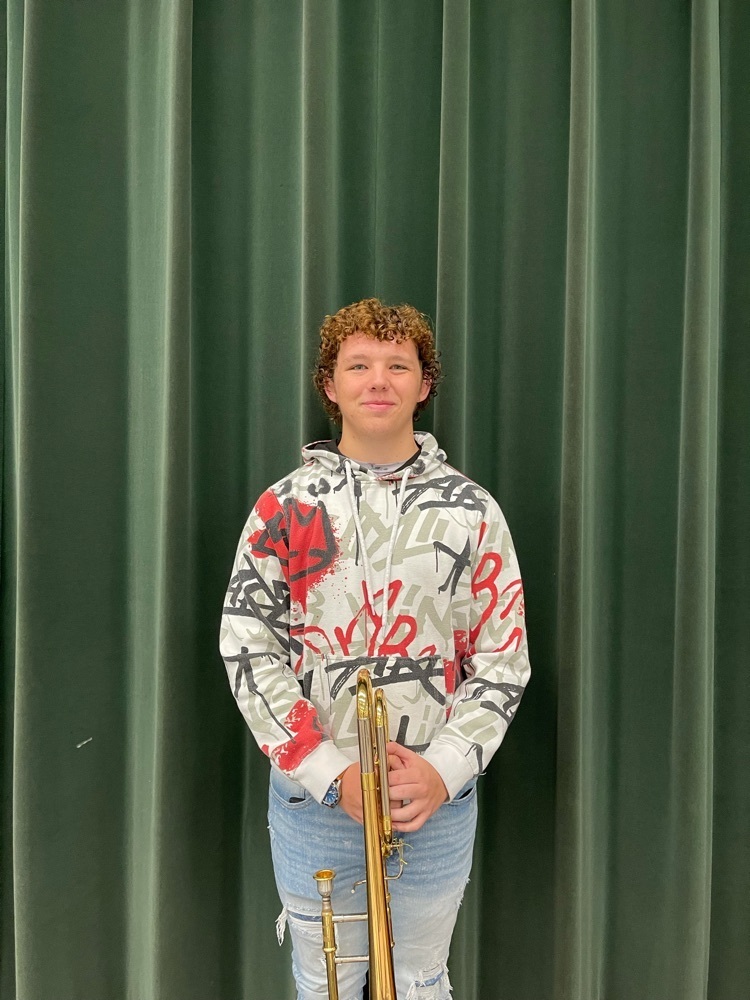 Congratulations to our boys and girls cross country teams this weekend as they competed at the Harts Bluff Invitational. Boys won third place led by Clayton Smith finishing 8th place. Girls won 2nd place led by Brennan Baker finishing 5th and Zaria Bohannan 7th. Great job.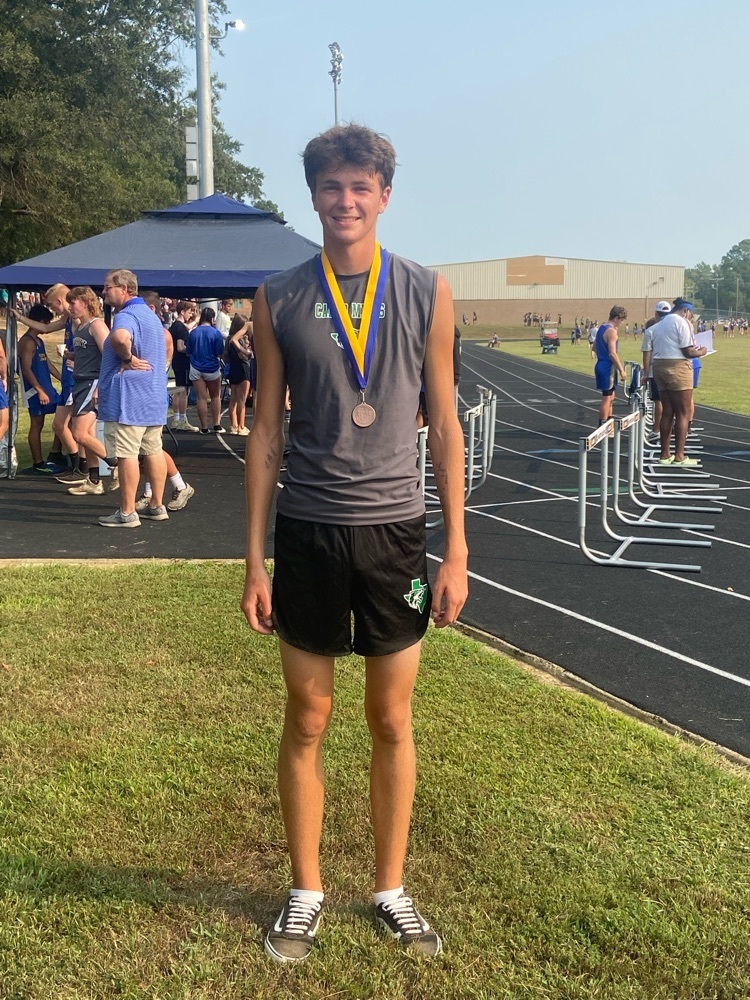 I am excited to report that Caddo Mills High School will have the opportunity to partner with Texas A&M University-Commerce beginning in the 2021-2022 school year to offer our graduating Seniors a tremendous scholarship opportunity. TAMU Commerce has agreed to offer the "President's Promise Scholarship" to qualifying Seniors. The "President's Promise Scholarship" will be offered to incoming, first-time college Freshmen who meet the qualifying criteria: *Students that are in the top 50% of their class *Students that have filed their FAFSA and are Pell Grant eligible *Students whose household Adjusted Gross Income (AGI) is $50,000 or less. The scholarship pays the remainder of the student's tuition that is not covered by a Pell Grant and is good for 8 semesters or until the student graduates. In order to qualify for renewal, the student must successfully enroll and complete a minimum of 15 credit hours each semester at TAMU Commerce and maintain a minimum 2.0 semester and institutional cumulative GPA. This is fantastic news and an excellent opportunity for our qualifying Seniors. Please join us, Wednesday, September 22 from 6-8 p.m. in the Caddo Mills High School Cafeteria. All students are welcomed!
Homecoming Dance information Sept. 18th CMHS Cafeteria 7:00 pm - 10:00 pm Semi Formal Attire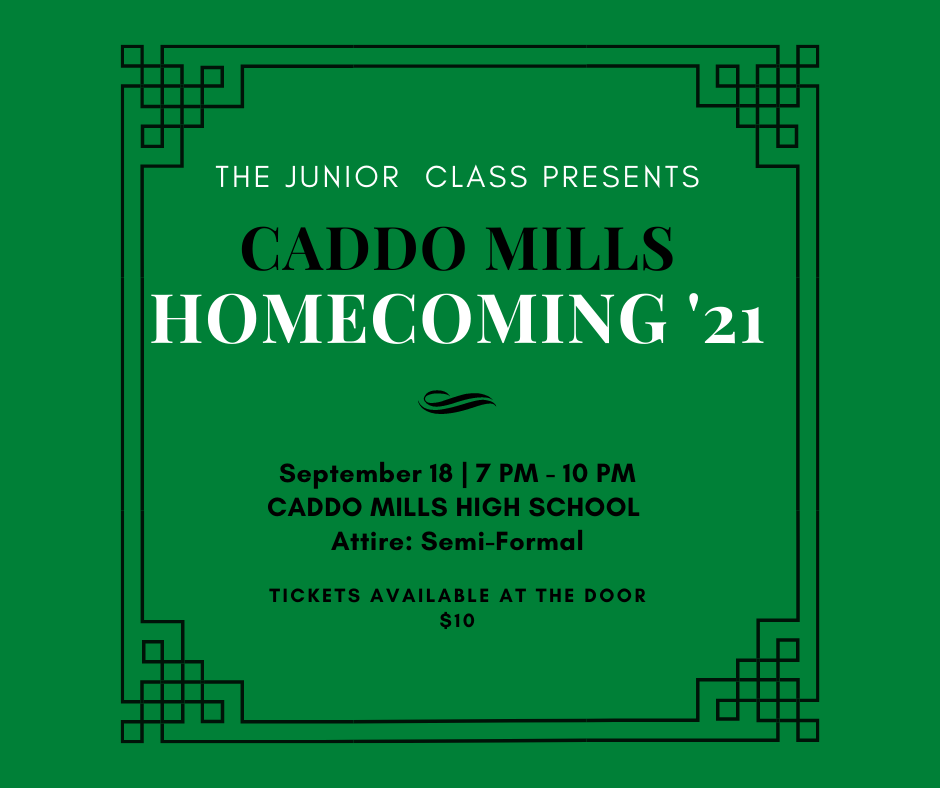 CMHS Yearbooks are still on sale for $35 until this Friday! Don't forget to buy your book before the price goes up! Orders can be placed online or by bringing the order form and payment to Mrs. Weir.

PSAT/ SAT school day is Wednesday, October 13. All juniors will take the PSAT. If any senior wants to take the SAT, please fill out the google form in your email. Cost of the SAT is $64.00 and money is due Friday, September 10.



Yearbooks are on sale NOW through 9/10 for $35! After this date, the price will go up, so don't miss your chance! You also can get 4 free icons if you add personalization to your order. Orders can be placed online or by returning the order form and payment to Mrs. Weir.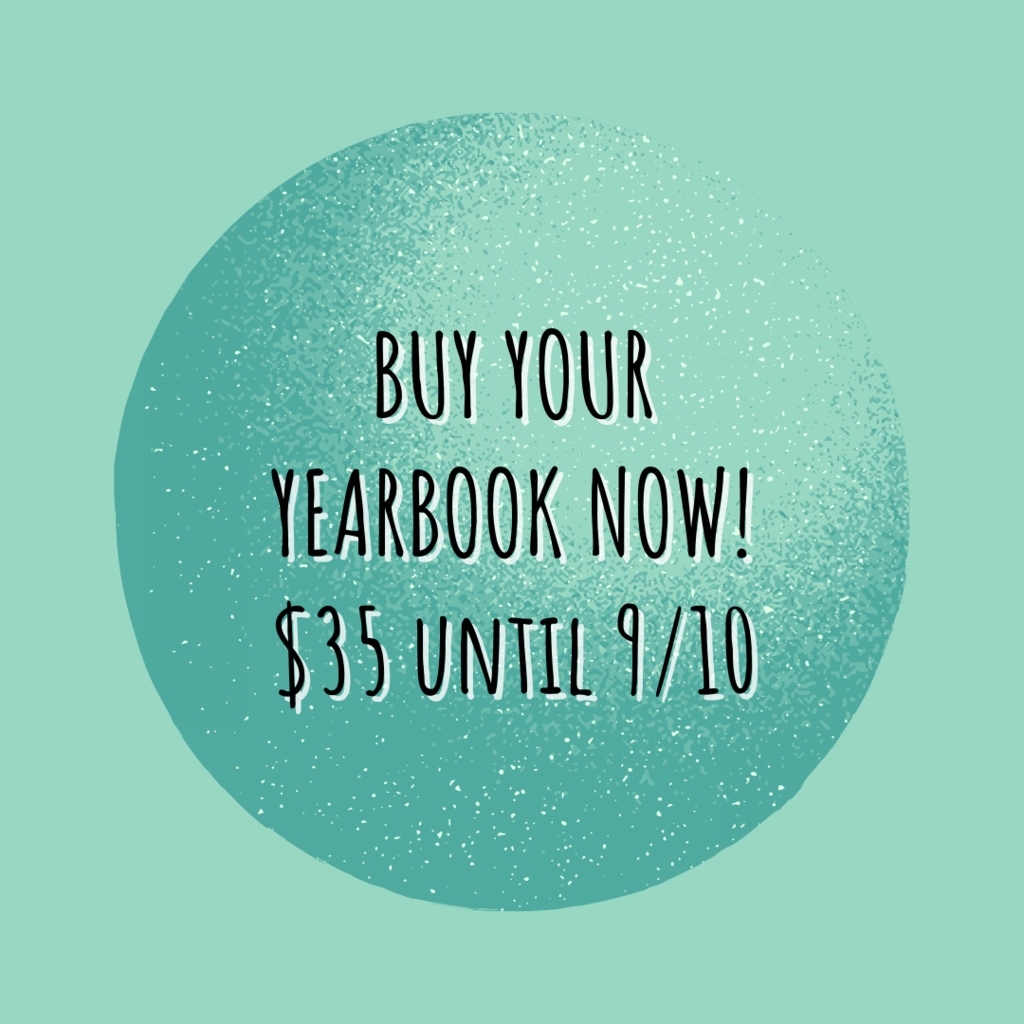 Senior Ad packets for the yearbook are going out today in the Senior English classes. Ads are on sale now until 11/12. Please read through all of the requirements for designs and photos and contact Mrs. Weir with any questions!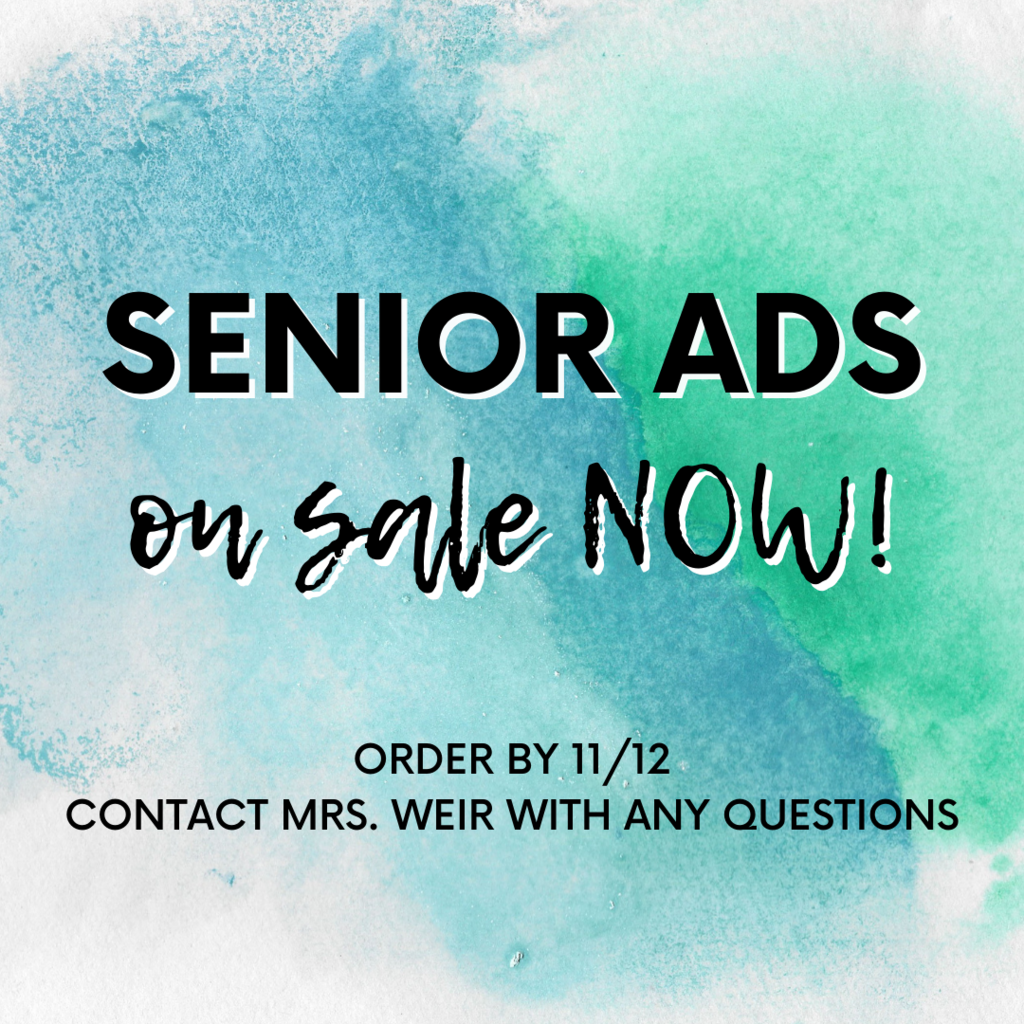 JV Football travels to Gainesville on Thursday night. The address to the stadium is 2201 South Interstate 35, Gainesville, TX 76240. The link for tickets:
https://goleopards.org/event-tickets

Coach Tharp is having a Golf meeting for all high school boys and girls interested in playing golf this year. He is meeting in the cafeteria Wednesday during advisory period.