CMISD wishes our Fox staff and students an awesome first day tomorrow! It's a great day to be a fox!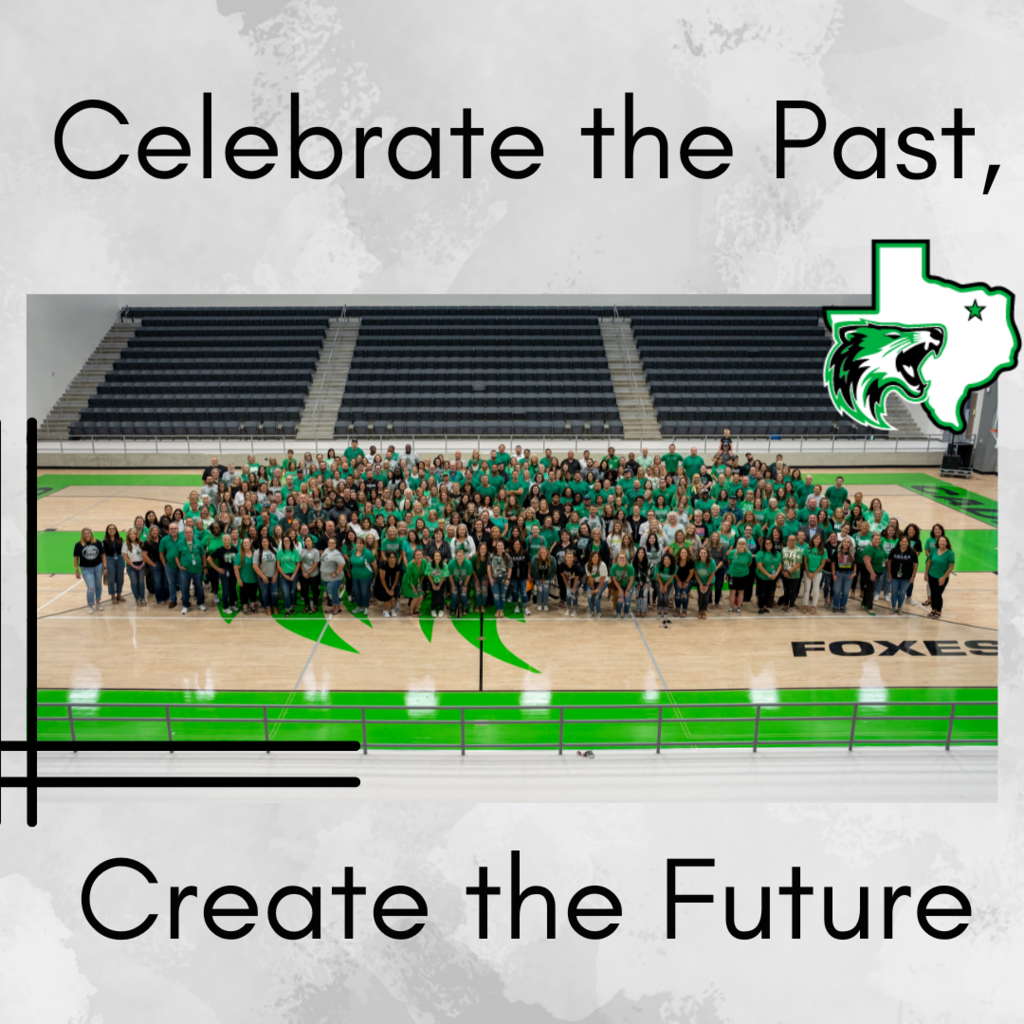 If your child wants to be on the football field before Friday night home games, sprint through the tunnel, and cheer in the Spirit Line, check out the Fox Squad! If you did not pick up a form at Meet the Teacher Night, please click the link below to a print a copy, or stop by one of the campus offices.
https://tinyurl.com/foxsquad
Forms and payment are due by August 24.
Today, the Texas Education Agency announced ratings for all school districts in the state. We are proud to announce that our district received an A rating. CMISD also earned many campus distinctions and the district distinction. Ratings are based on various indicators, including student achievement and growth. This is the first rating since the 2018 - 2019 school year due to the interruptions created by COVID-19. CMISD takes great pride in our staff members, administrators, students, and supportive school board. They have all overcome huge hurdles the last few years. We are excited about our A Rating, our 95 overall score, and a score of 98 in College, Career and Military Readiness. We maintain high expectations and work hard to grow each student every day. However, STAAR is one day out of the year and does not always show the success of all programs we provide. We strive to develop character, servant leadership, and to prepare students to be productive citizens. Caddo Mills ISD is committed to making our community proud.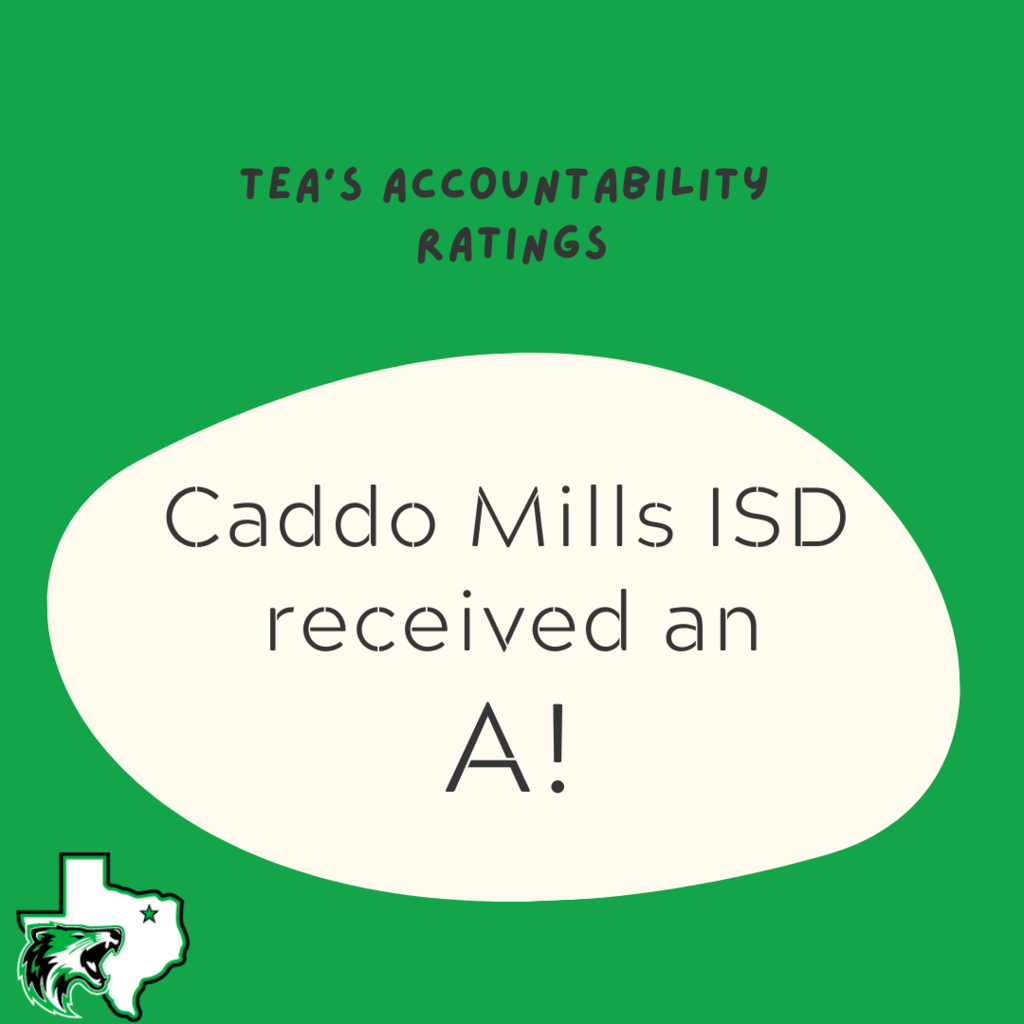 Our first day of school is August 18th! Check out the events going on this week and come see us! The attached newsletter includes all the back-to-school information you may need! (School supplies lists, campus hours, and more.)
https://www.smore.com/9k1n3
We can't wait to see you!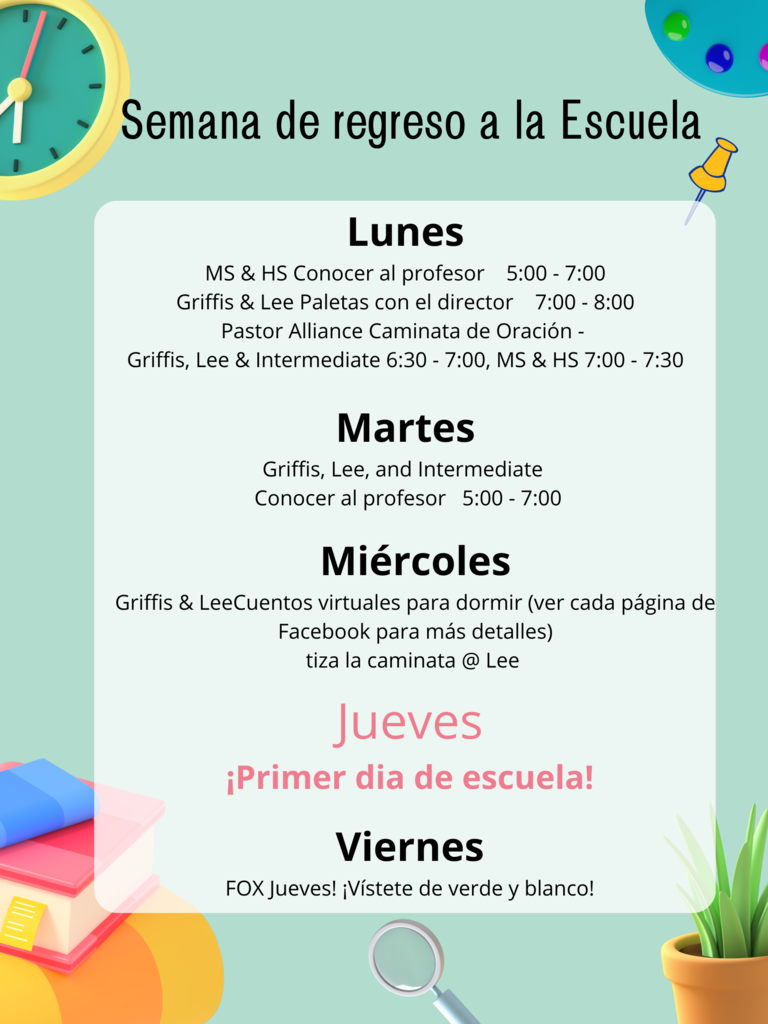 Don't miss our HOMETOWN GATHERING and your chance to see the new Caddo Mills High School!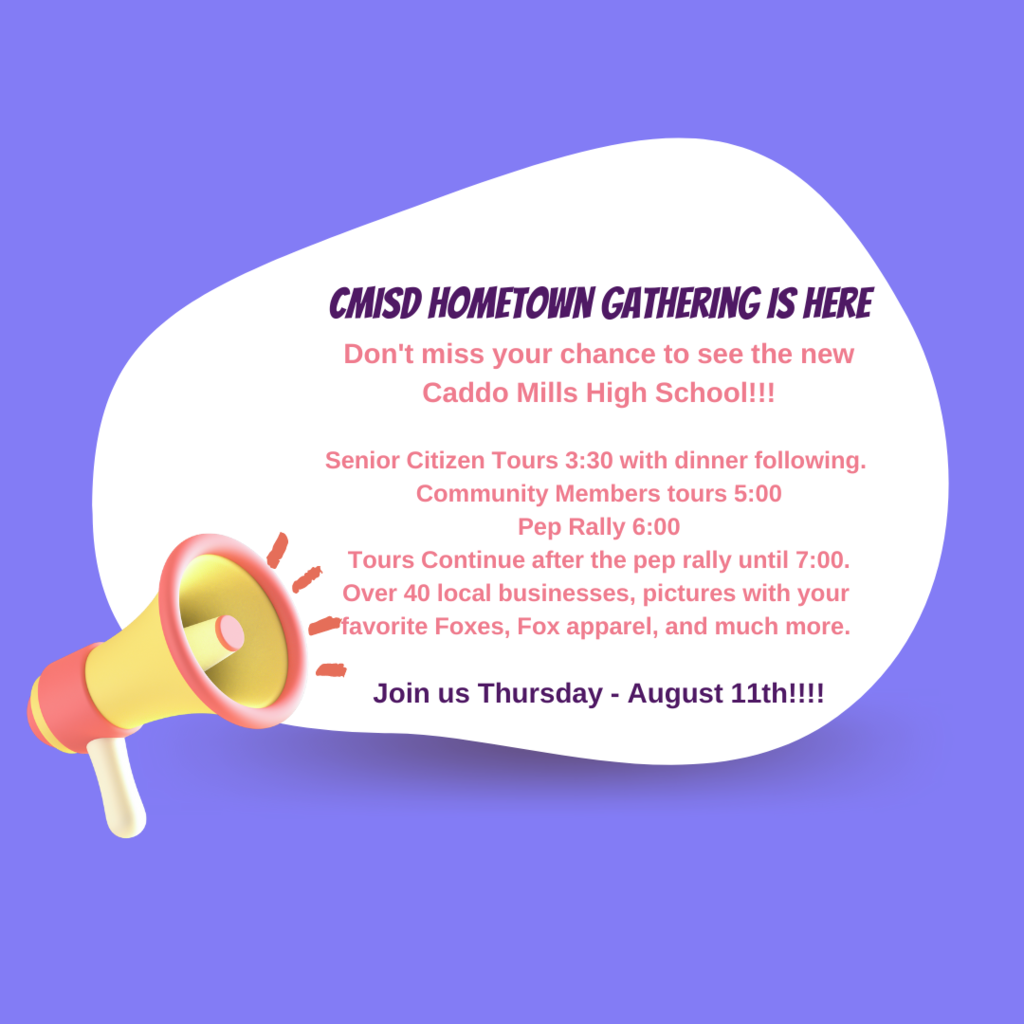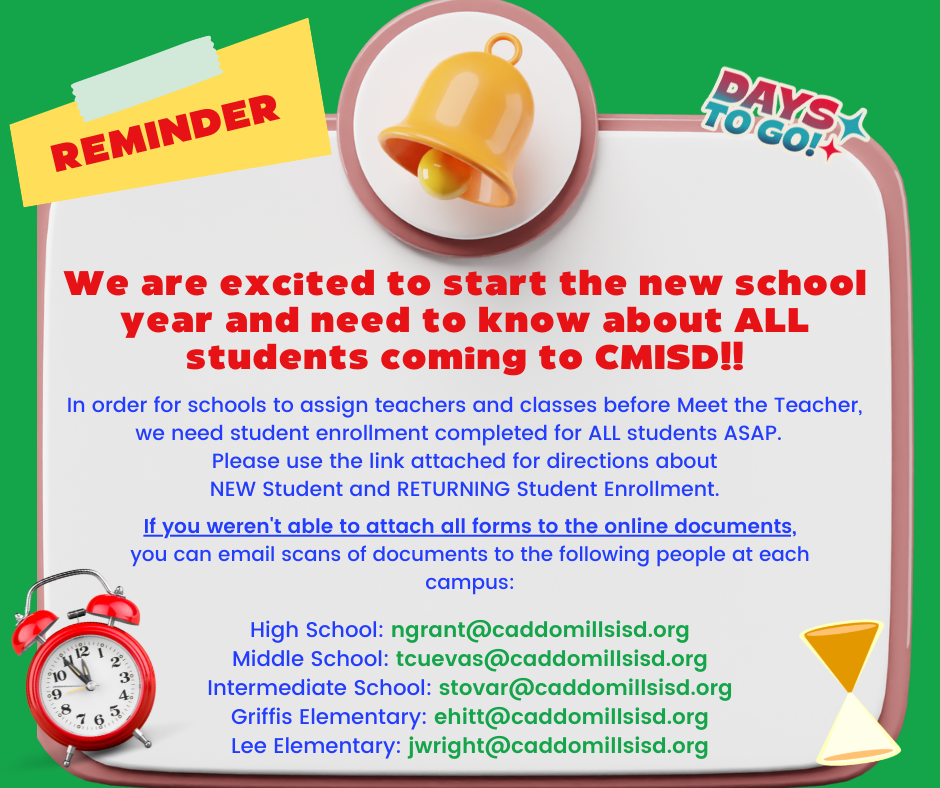 Annual Senior Citizen's Dinner! We have moved the tours to start at 3:30 so you will have plenty of time to look at the new building before the dinner at 5:00.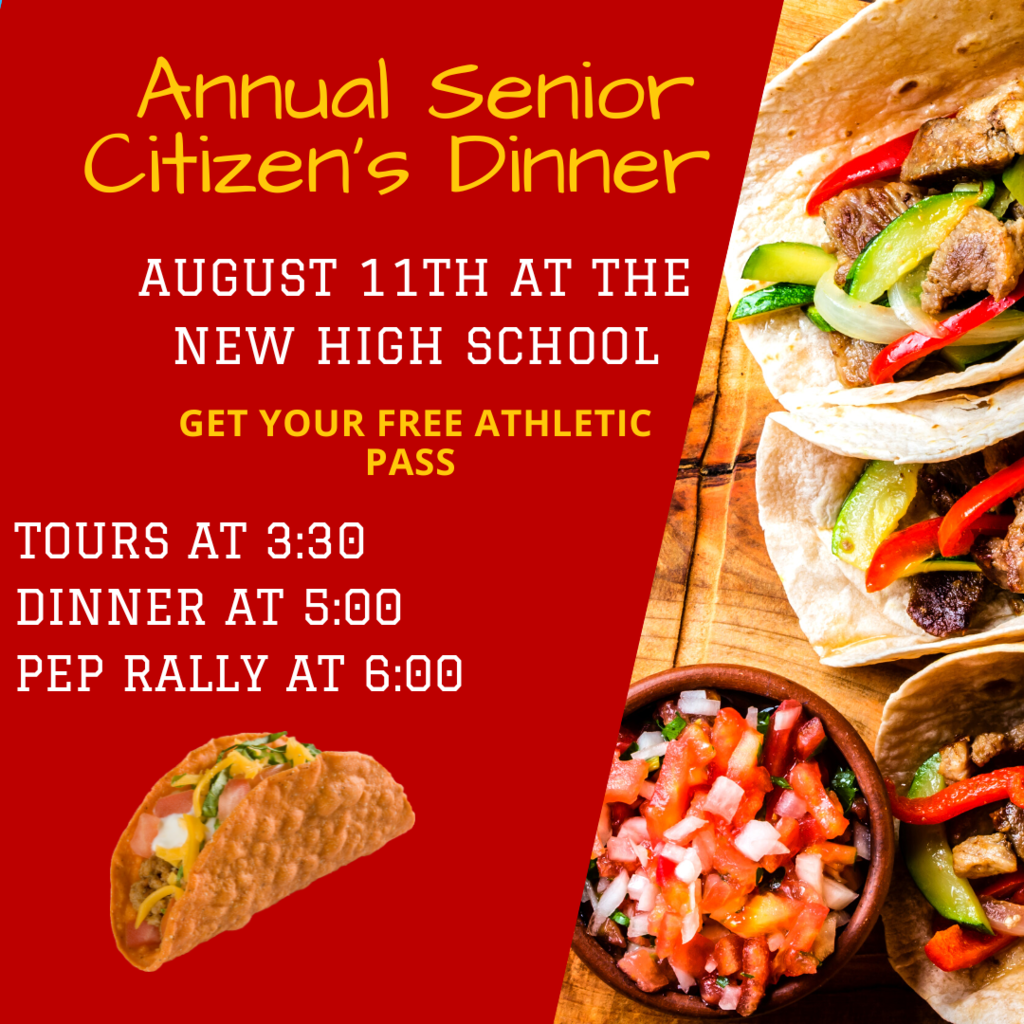 Caddo Mills ISD is now hiring Custodians! Come join our great team!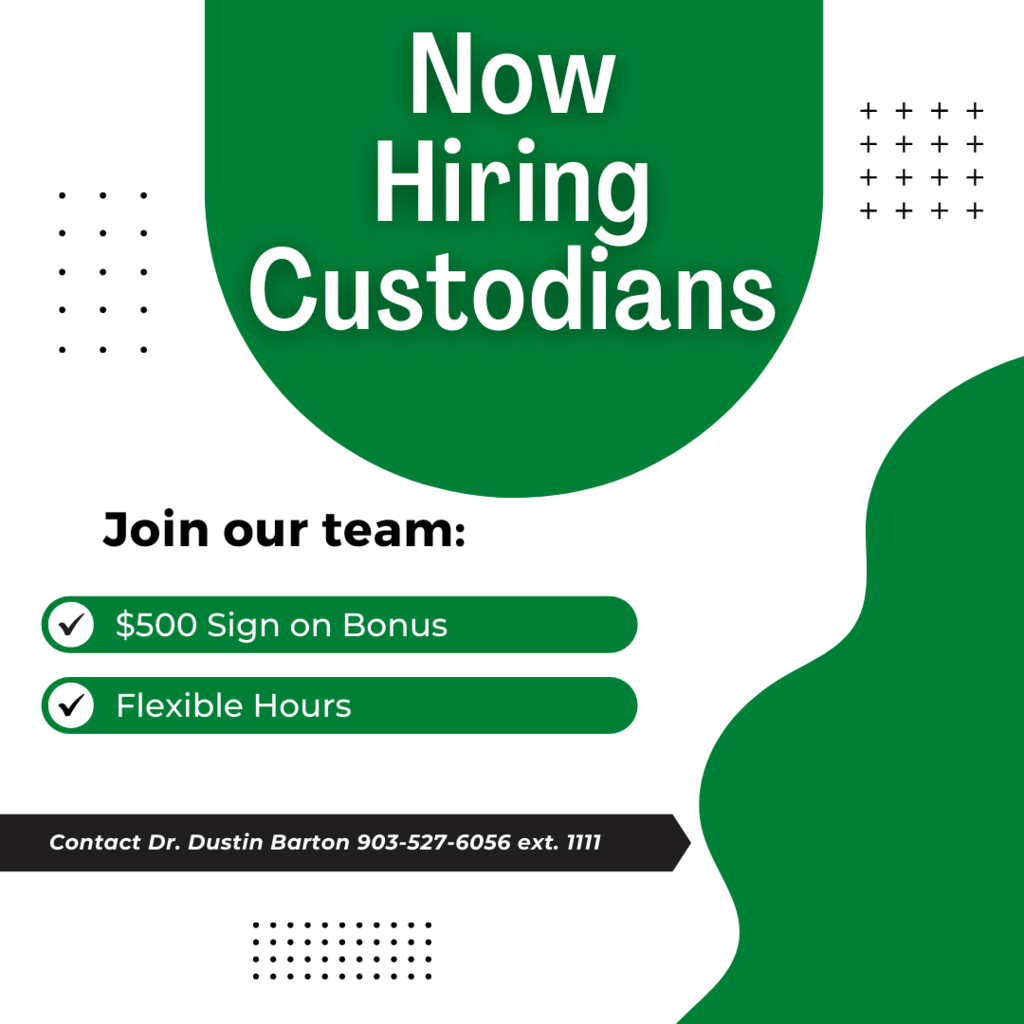 The flyer below contains information for school meal prices and the Free/Reduced Meal Program.

Last call for businesses to sign up for our Hometown Gathering.

Annual Senior Citizen's Dinner August 11th. Free athletic passes for the 2022-2023 school year will be provided for all senior citizens as well as dinner, a gift, and a tour of the new high school.
Join us for the Grand Opening of our new high school!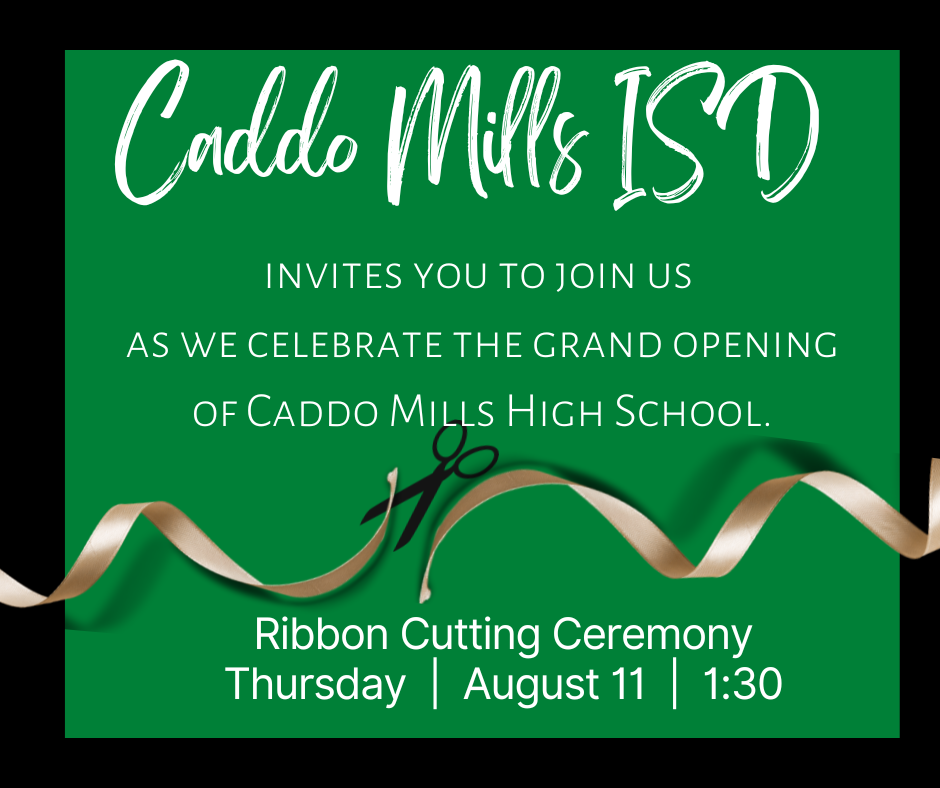 We are looking forward to seeing our students and families again soon! Join us for Meet the Teacher Night! You will see your classroom, meet your new teachers, drop off school school supplies, and see the campus.

Don't miss your chance to see the new high school. If you are a senior citizen, come eat dinner, tour the school, and get your season pass. All others are welcome to tour the school and attend the pep rally. Local businesses will be set up with door prizes.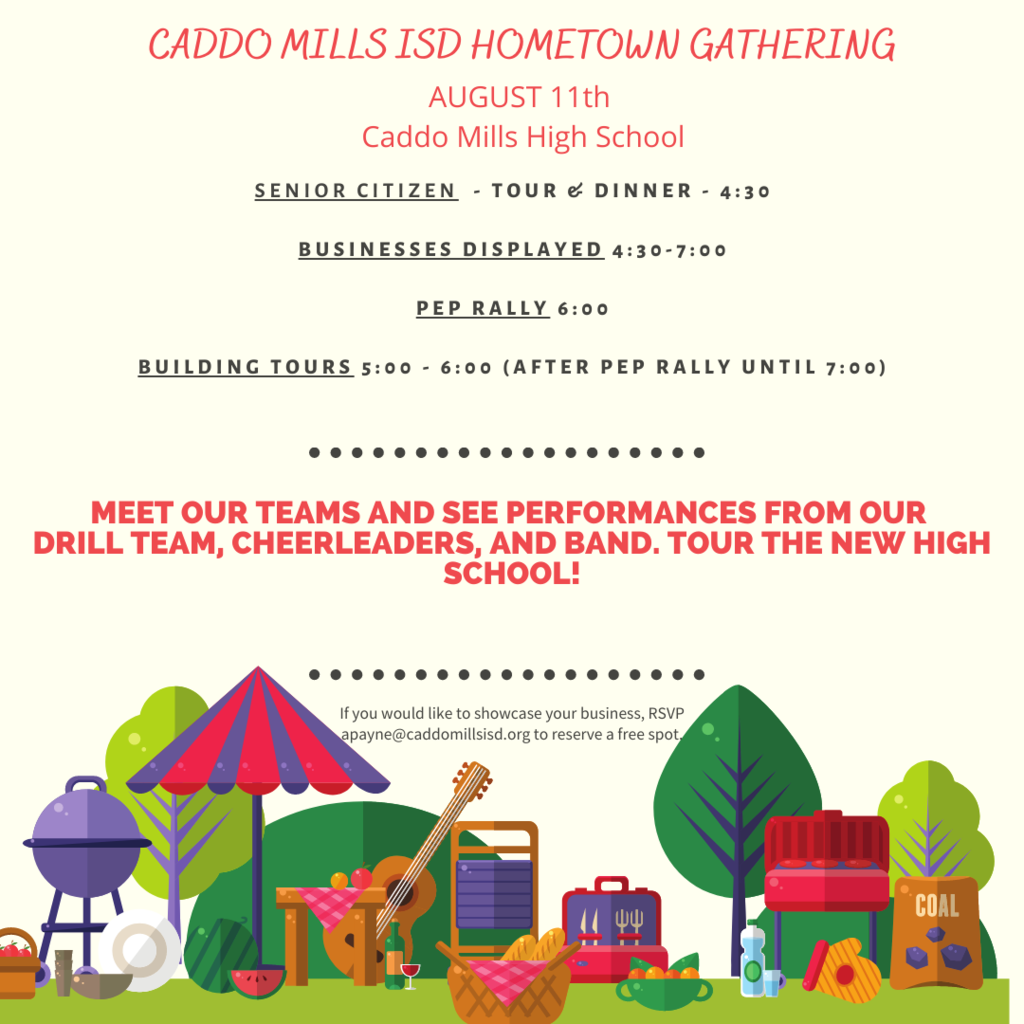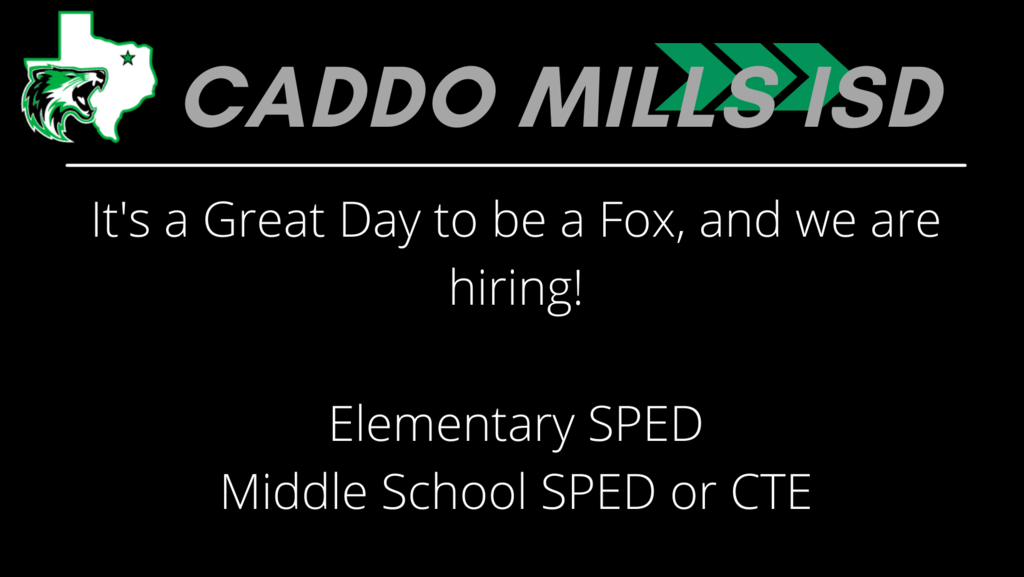 See below for school supplies lists for Griffis Elementary, Lee Elementary, and the Intermediate Campus. Griffis School Supplies:
https://www.smore.com/2gx4d
Lee School Supplies:
https://www.smore.com/5sny9
The first day of school is August 18, 2022. Watch for additional information coming soon regarding Meet the Teacher Night!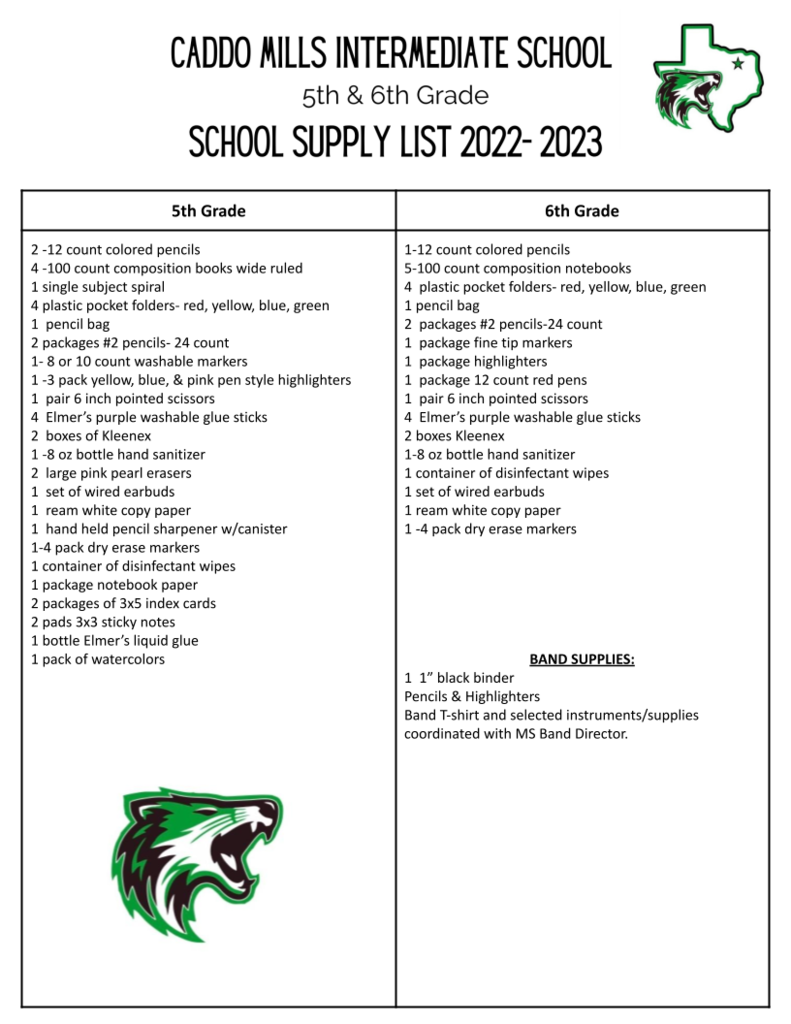 In efforts to increase efficiency during student drop off and pickup, CMISD is making the following changes to our bell schedules. Staggering the times for CMIS, CMMS, and Lee Elementary will help with traffic on Gilmer Street. Adjusting the start and end time at the high school will help with traffic and bus routes. Thank you for your patience and understanding as we open new campuses.

We are hiring bus drivers! Come work for a great district with great students and staff! For more information contact Sam Day 903-527-6133
The Masonic Lodge will be hosting a Cornerstone Ceremony at the new high school on June 8th at 11:00. The public is welcome to attend!

If you are moved to show love to the families of Uvalde, please see the attached post.