We are excited about our first college day this school year! Your child can show they are college ready by wearing their favorite college gear or college colors on Thursday, August 26th.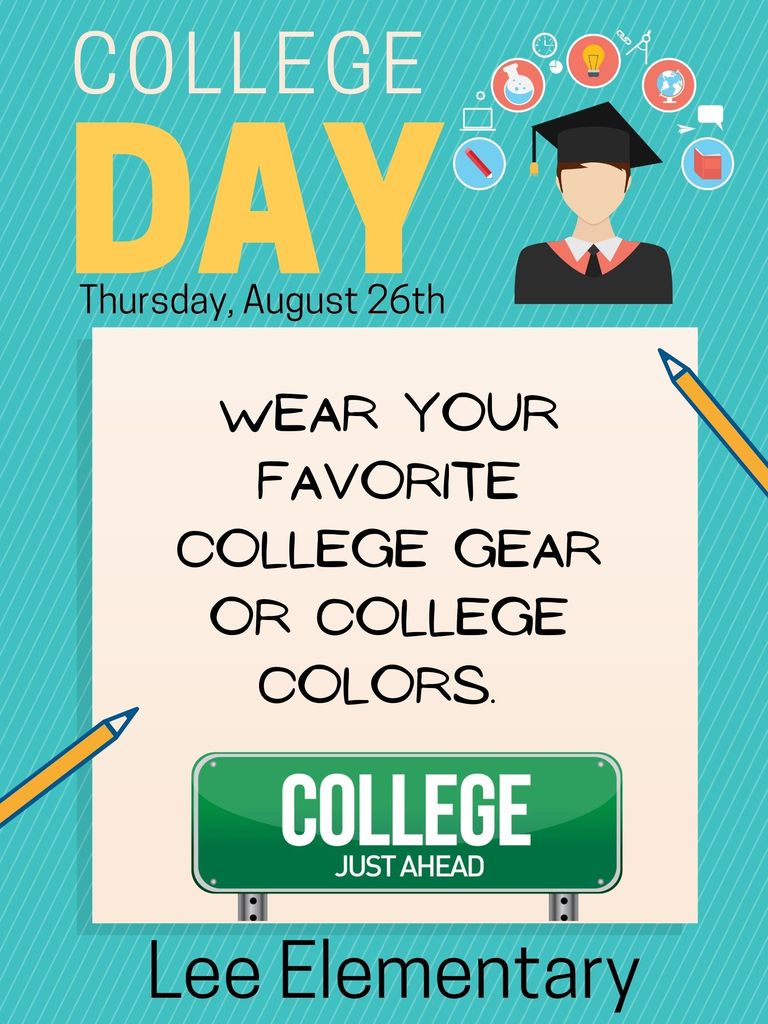 We will have our first parent lunch Friday, September 3rd. Lunch times are listed below. There will be seating available inside and weather permitting you may have a picnic outside with your child. You may bring food for your child or they can get a tray from the cafeteria. You will be required to check in at the office so please bring your driver's license. Please arrive early so that you have plenty of time to get checked in before your child's lunch time. We are looking forward to seeing you!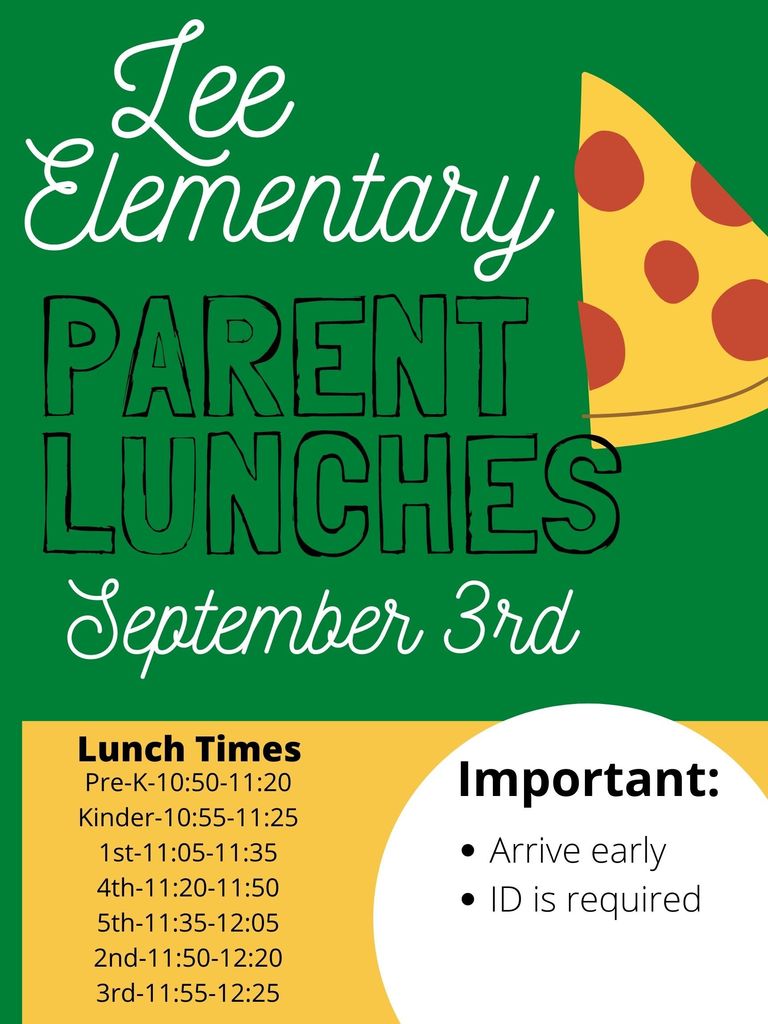 Morning arrival reminders: We will begin our normal drop off procedures tomorrow morning, Monday, Aug. 23rd. Parents please remain in your car and go through the drop off line. The diagram below will aide in drop off procedures. Please form a single file line in the mornings and drop off in the youngest siblings location. Staff will be ready in the morning to assist your child. We are ready for a great week!!
Parent meetings begin this week. The schedule is posted on Facebook and the Lee webpage. We hope that you can attend. Teachers will be providing information to help your child have a successful year. We are looking forward to a great partnership this school year.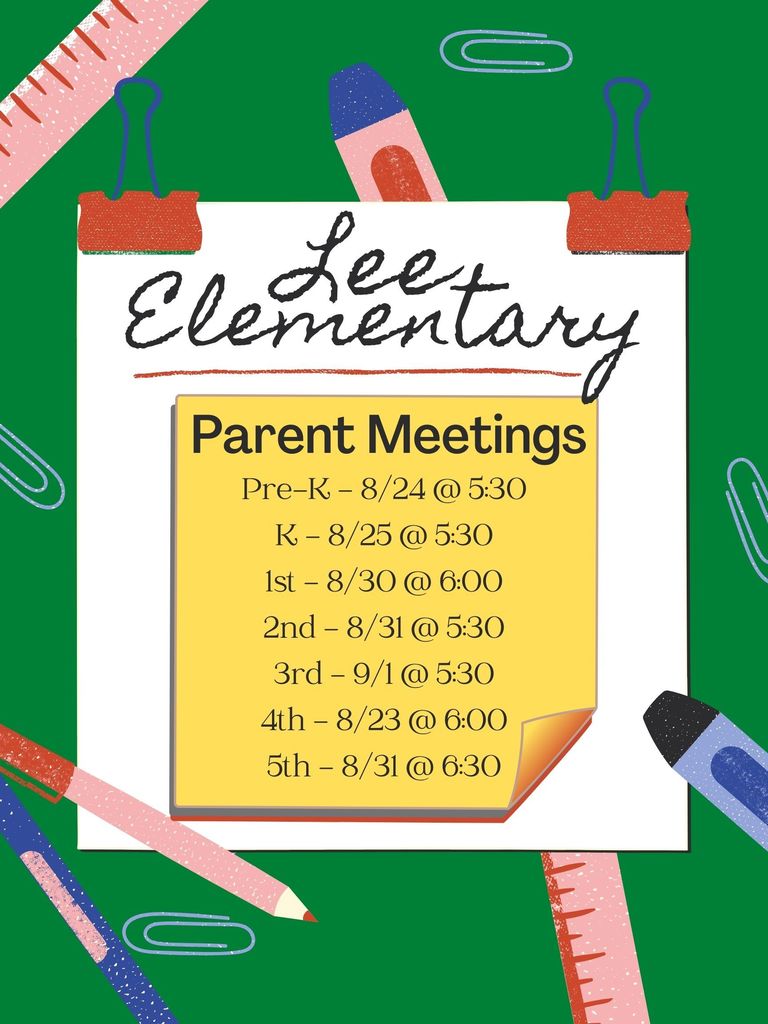 We are excited for the FIRST DAY OF SCHOOL tomorrow! Please see the arrival and dismissal diagram below. ARRIVAL: The doors open at 7:30am. Parents will be allowed to walk their children to their classroom(s) the first two day of school. (August 19-20). DISMISSAL: School is dismissed at 3:30pm. Please display car rider signs on your vehicle windshield. Please do not line up prior to 2:45. No walk ups. Please do not block the crosswalk. Friendly reminder: No cell phone use in the car line to ensure safety for all. It's the law.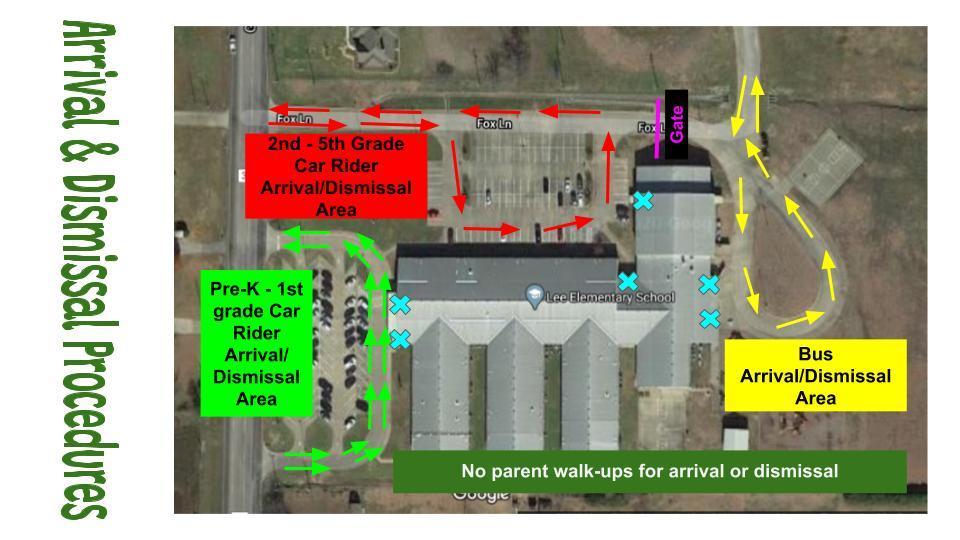 We would like to introduce our Special Education team. They are ready for another winning season.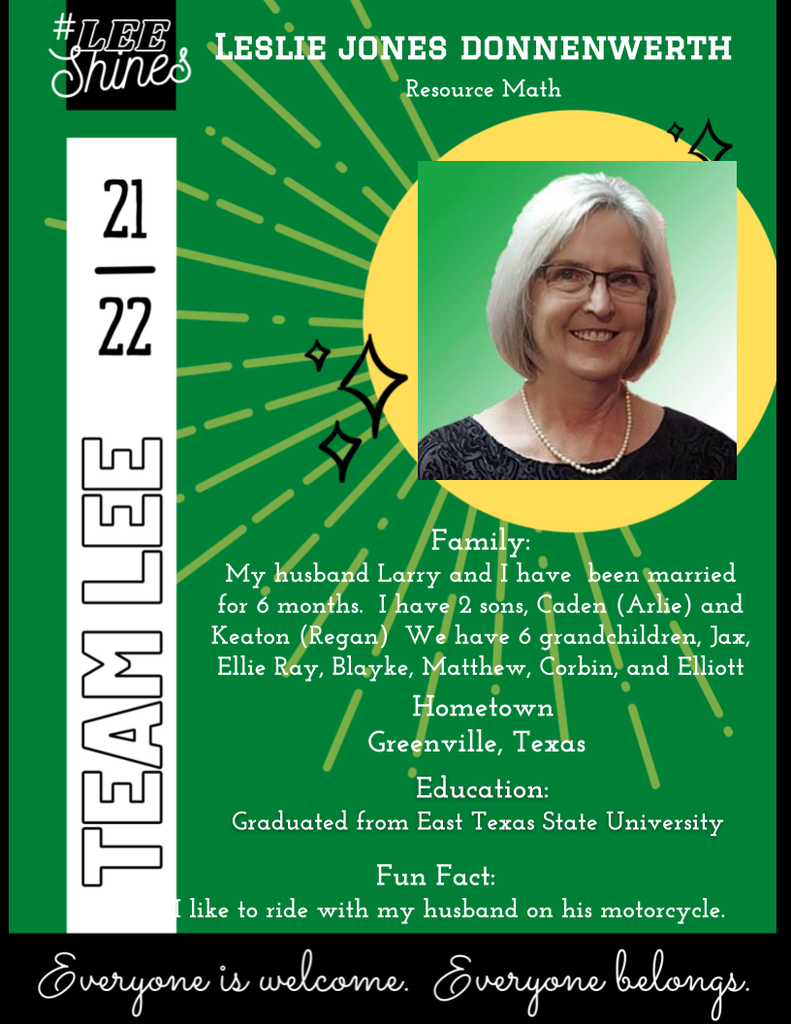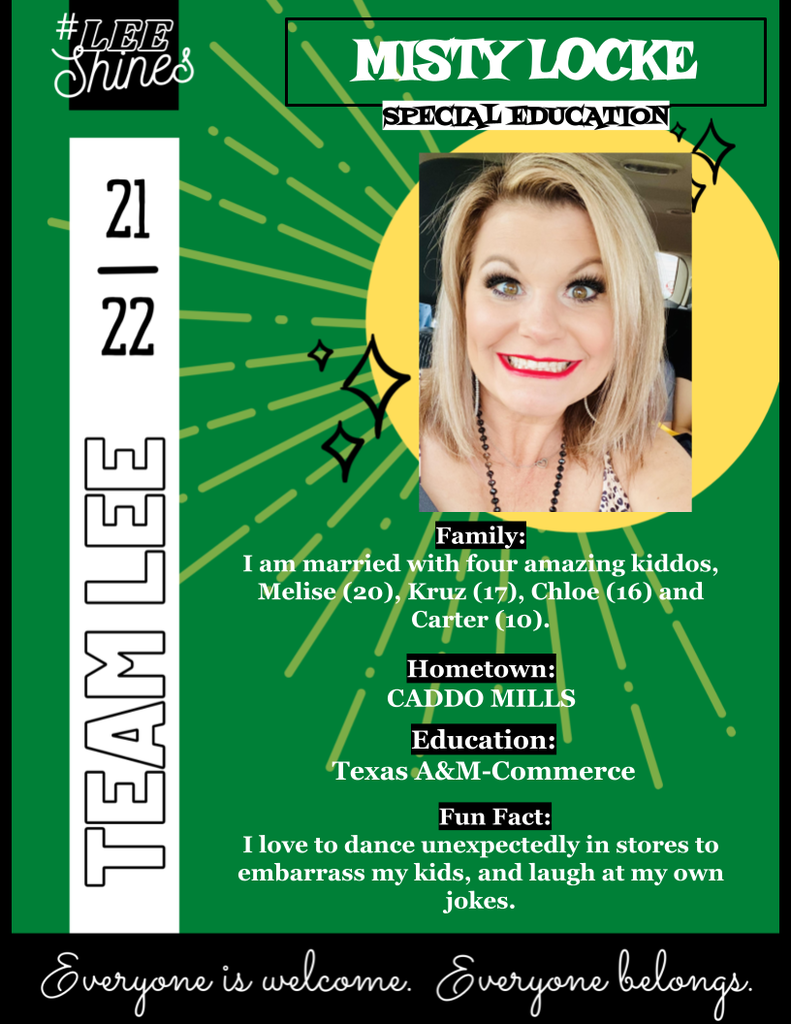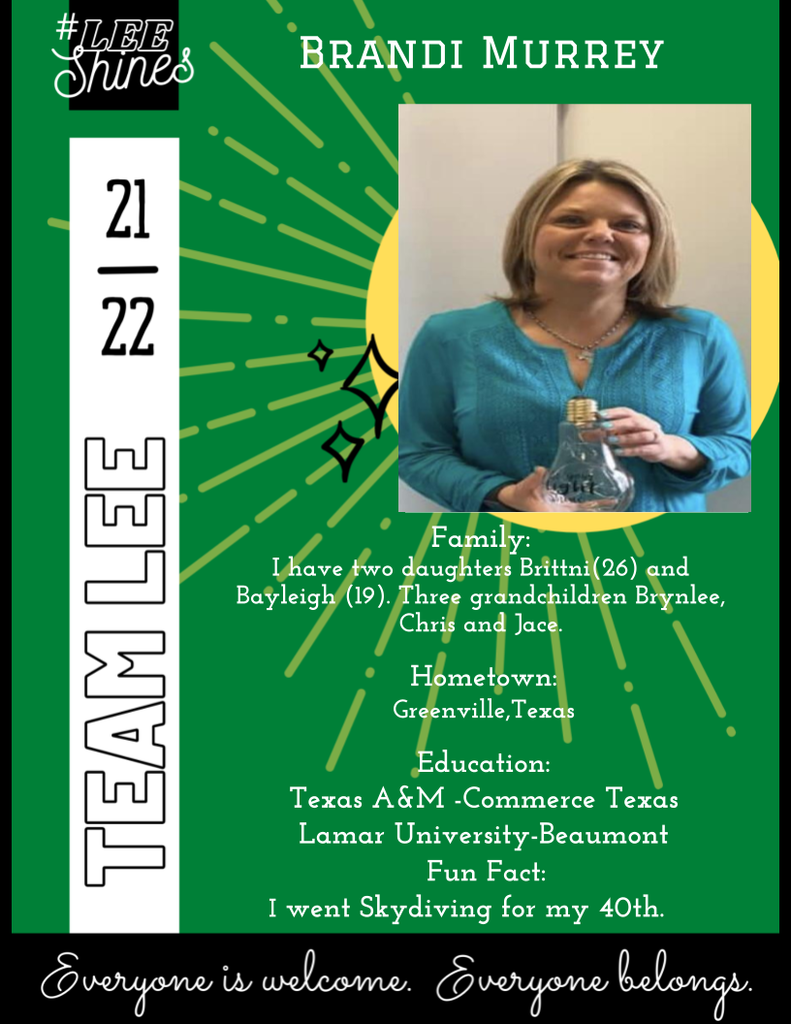 We have some new faces on our DSC team. They can't wait to meet their students and are ready help all of their students be successful.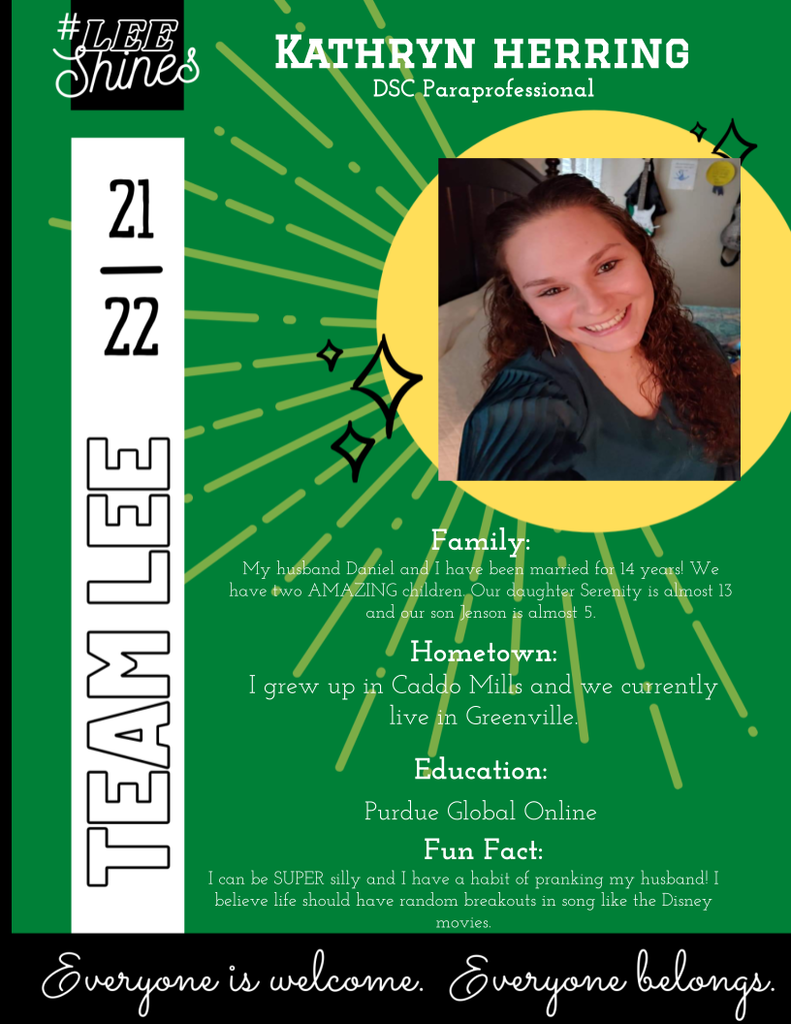 We would also like to introduce our ECSE team. They are looking forward to working with some of our fabulous foxes!
Parents are welcome to walk their little Foxes to their classrooms on the first two days (August 19-20) of school. After the first two days, students will walk into the building independently. We will have staff members outside and inside the building welcoming students and helping them get to class. If parents are coming into the building after the first two days to volunteer or visit with a teacher, they must check in at the front office. Want to volunteer? Contact Lee PTO for opportunities.
We would like for you to meet our Fifth Grade team. They are a great team! They hope to make this the best year yet for all of their students.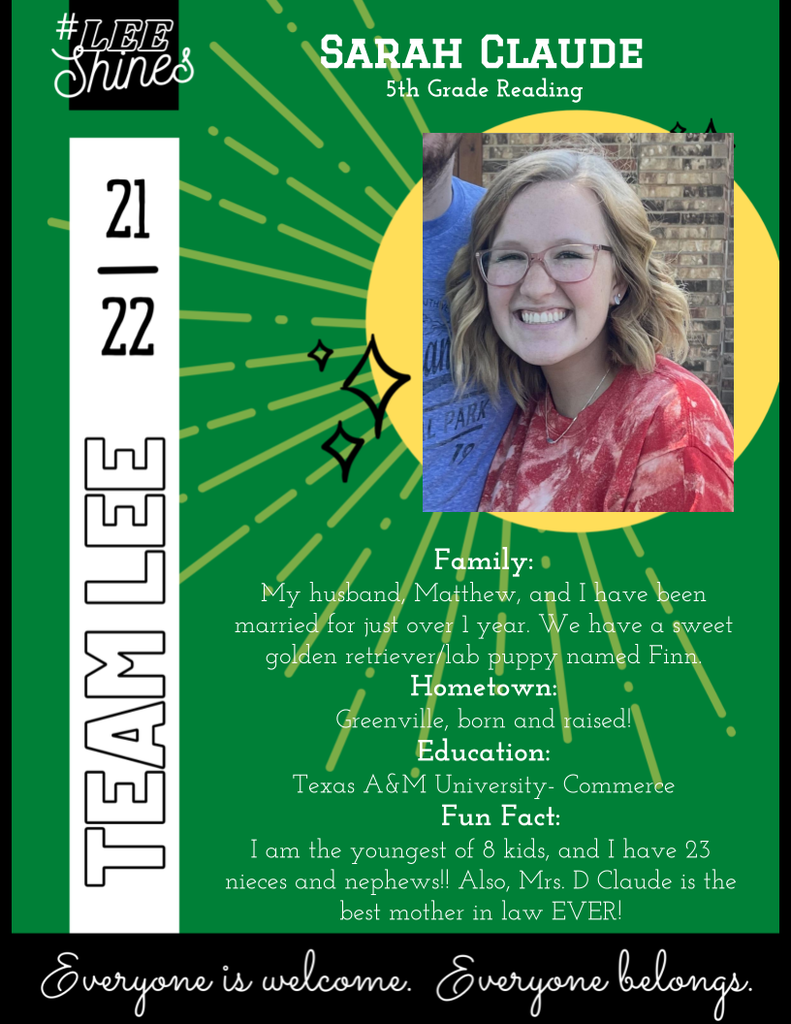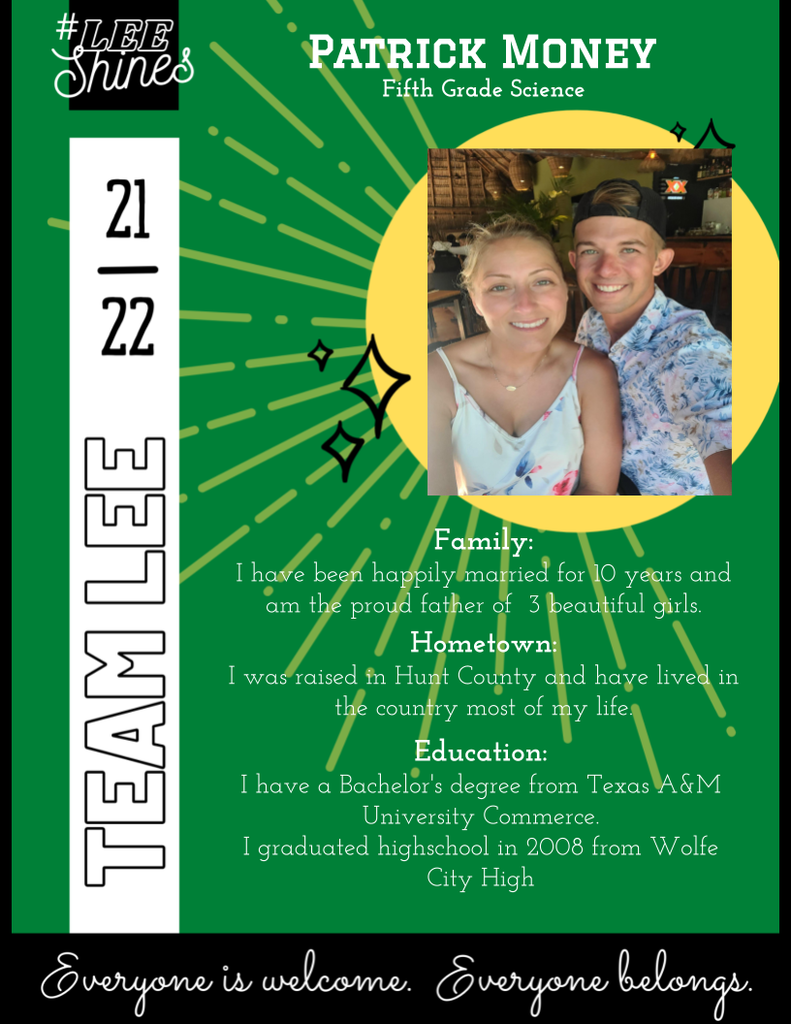 We have an amazing Fourth Grade team. They are ready to kick off another successful year at Lee.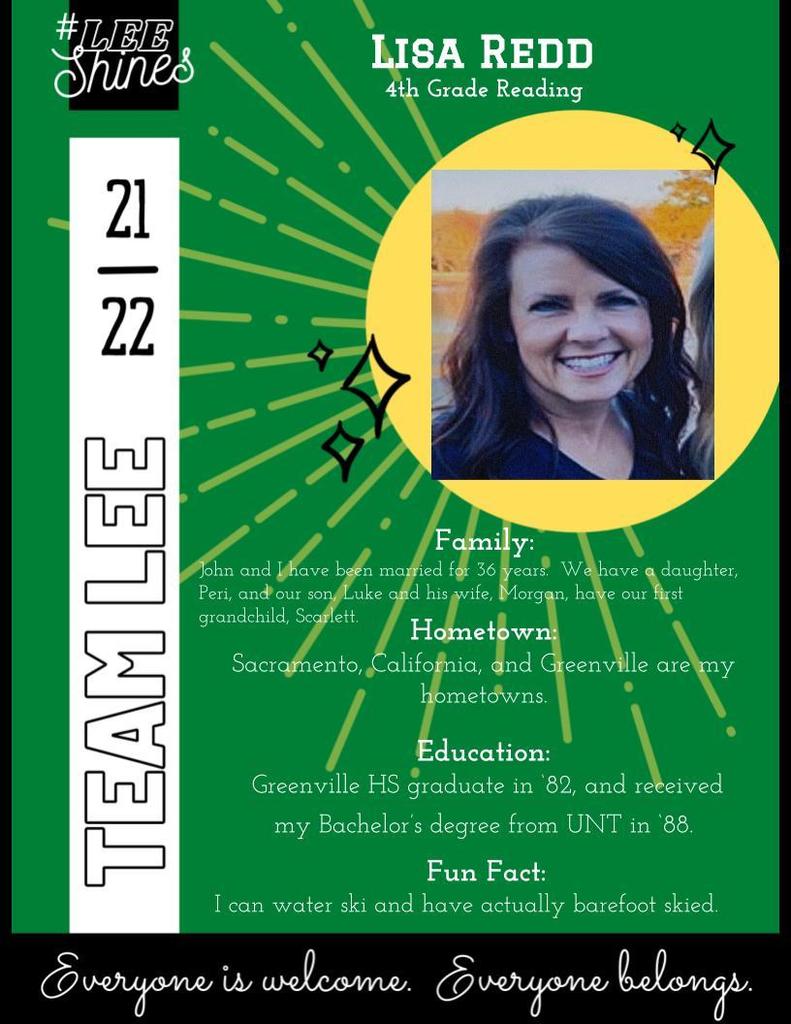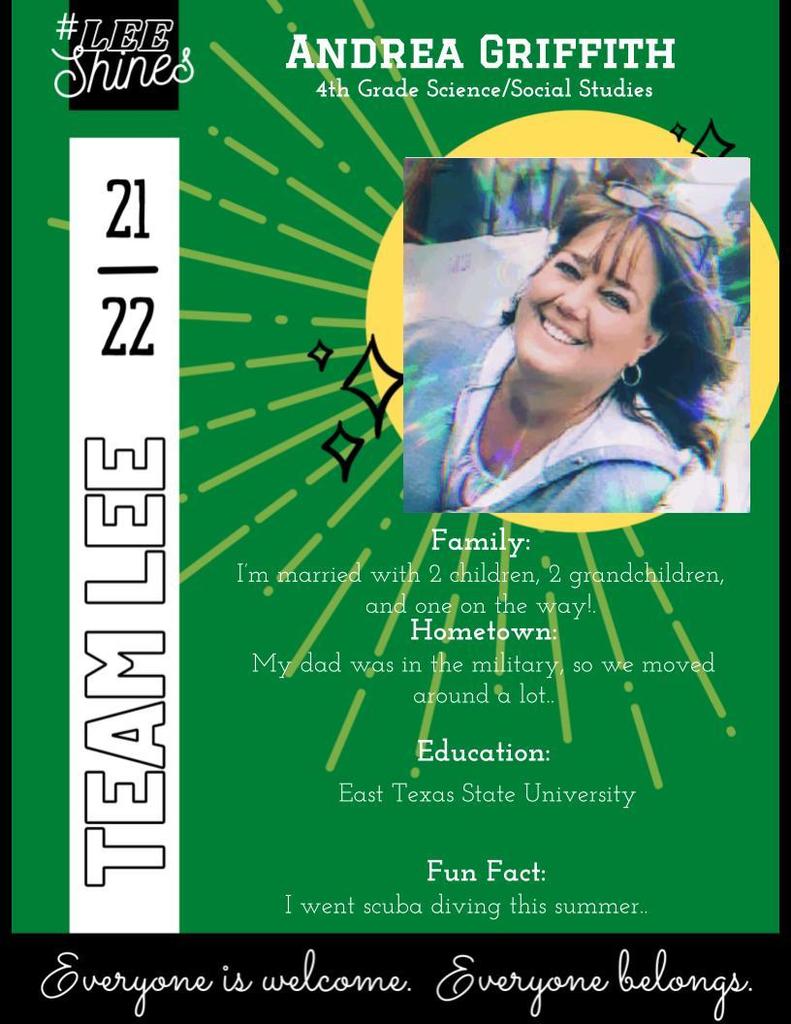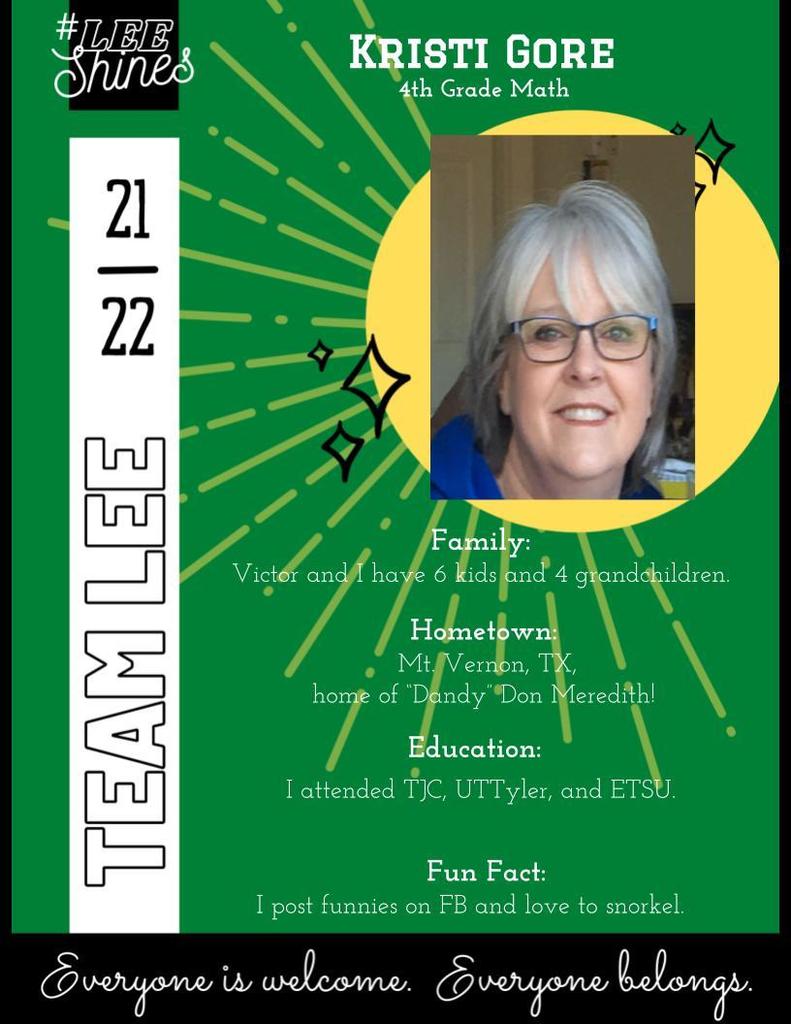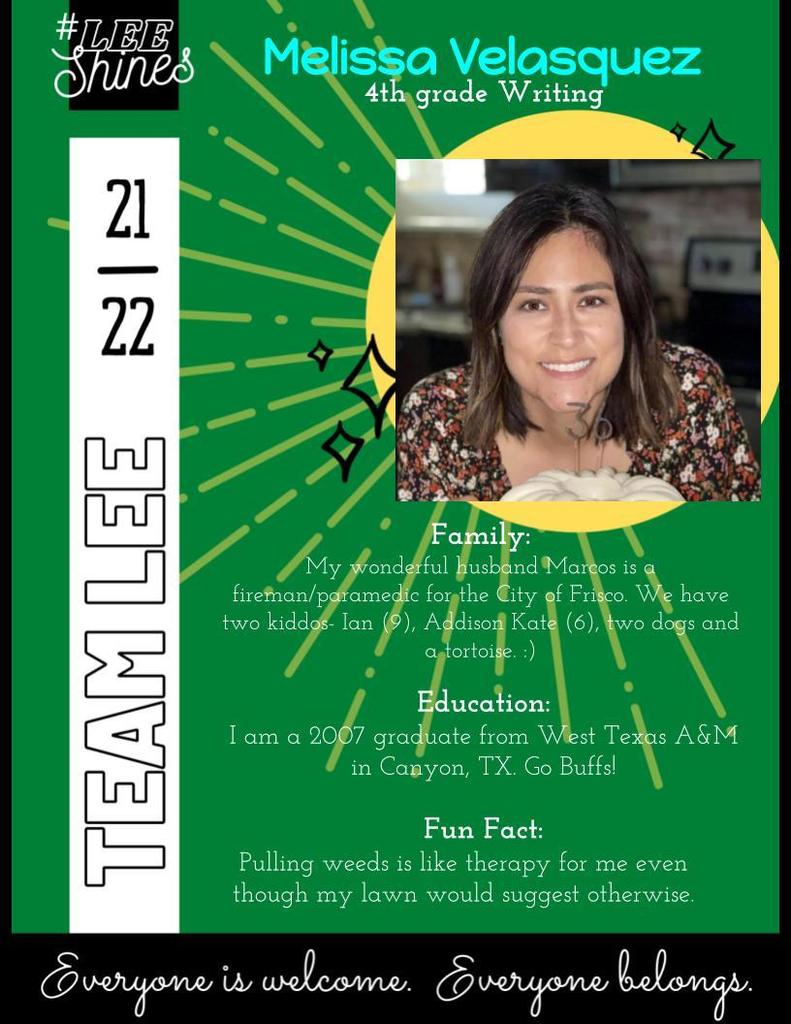 We can't wait to see you tomorrow! Meet the Teacher, 3:30-6:00pm. Bring your supplies and meet your teacher. TEAM LEE Shines
We are excited to introduce our Third Grade team. They are excited to welcome all of their students and families.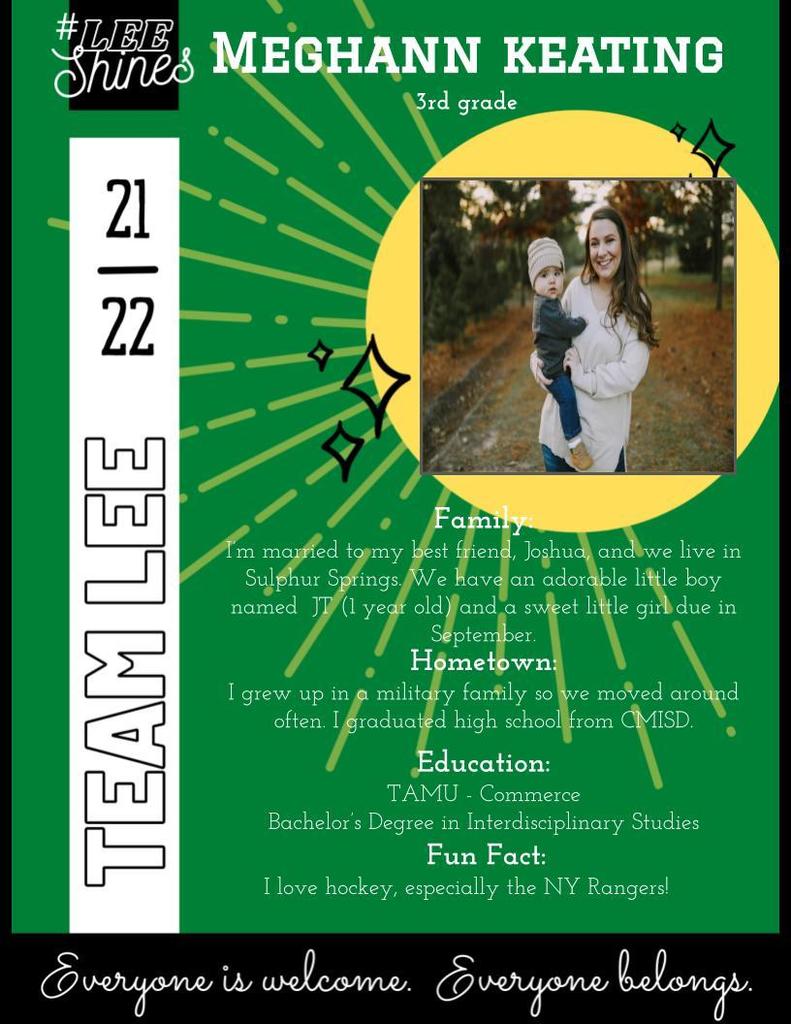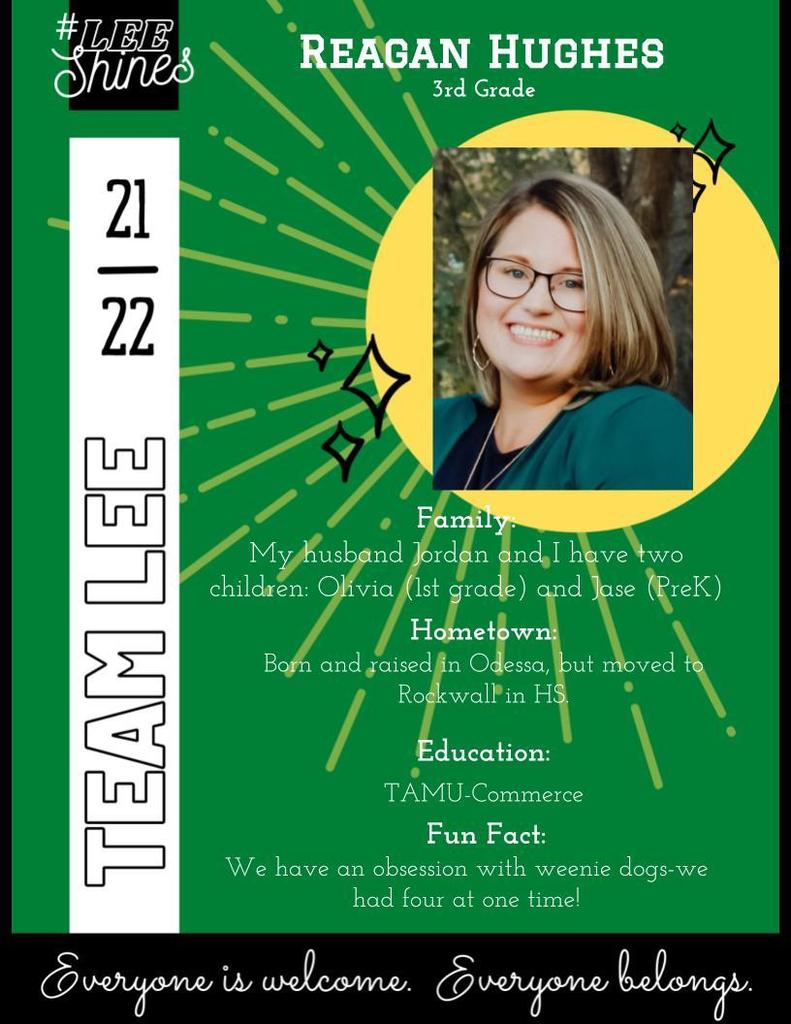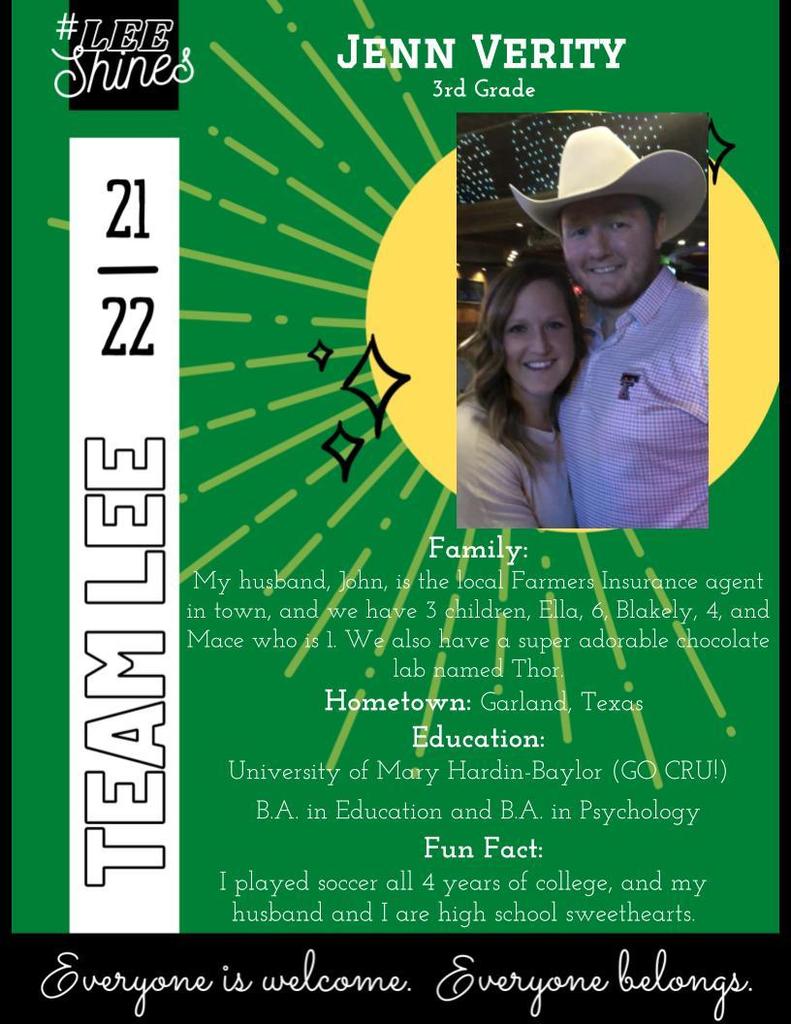 We would like to introduce our super 2nd grade team. They are ready to meet all of their students.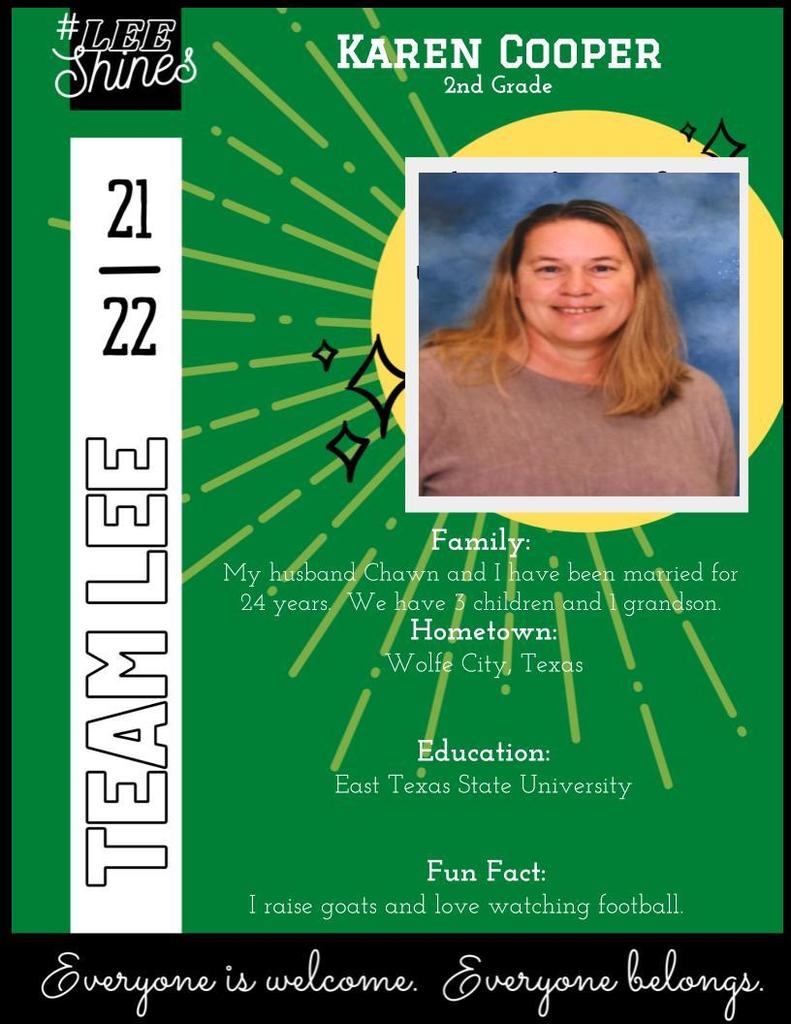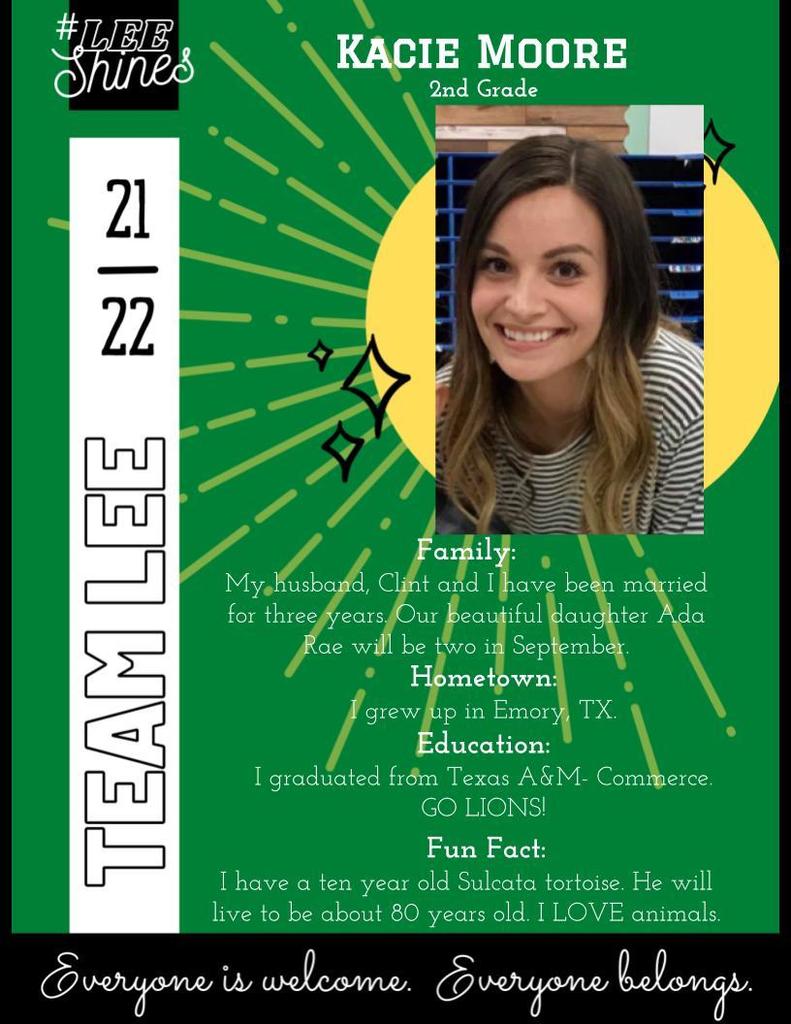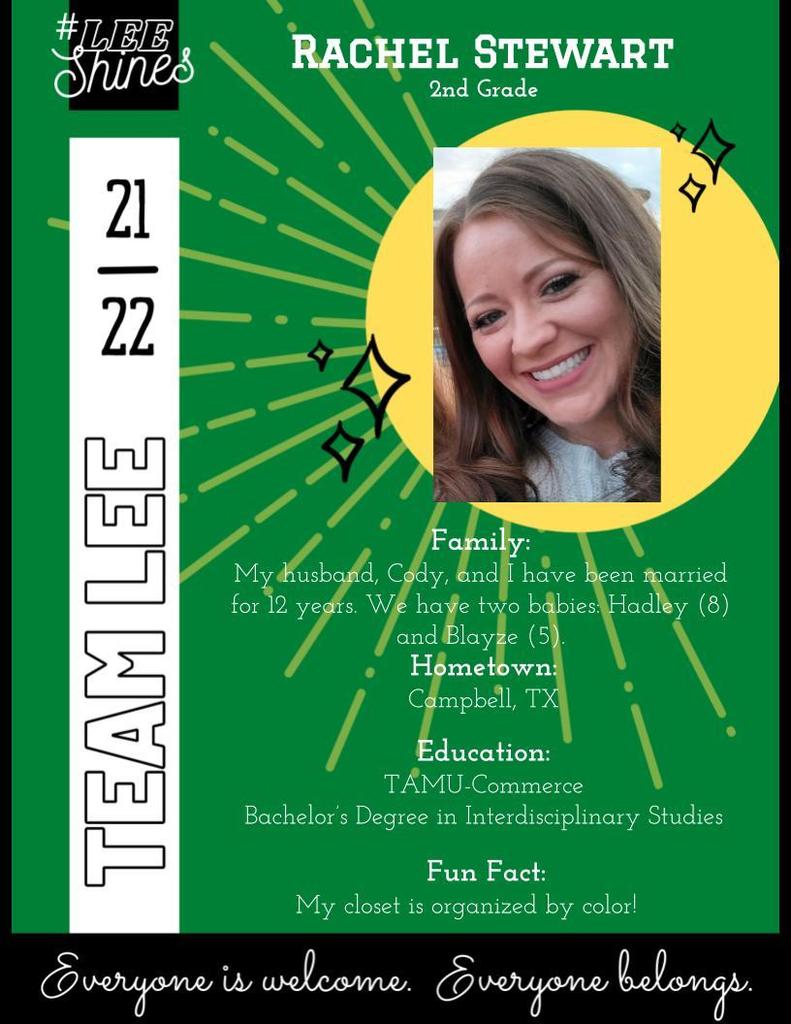 We would like to introduce Lee Elementary's FABULOUS First Grade team. They are excited to meet each of their new students.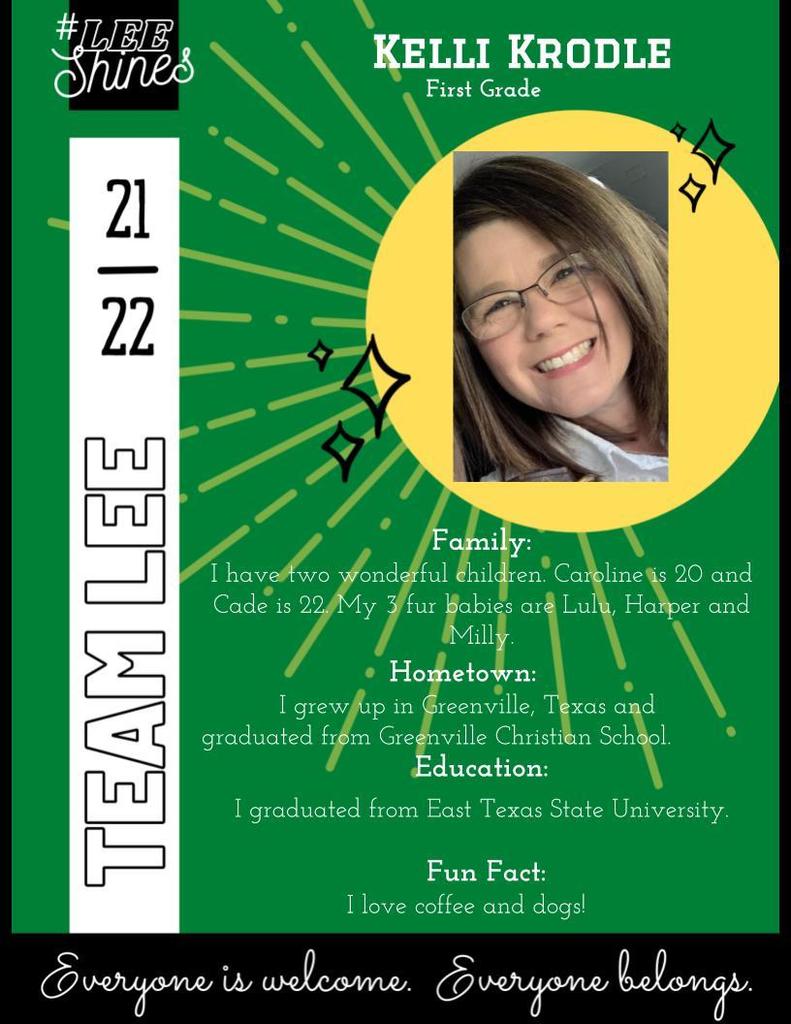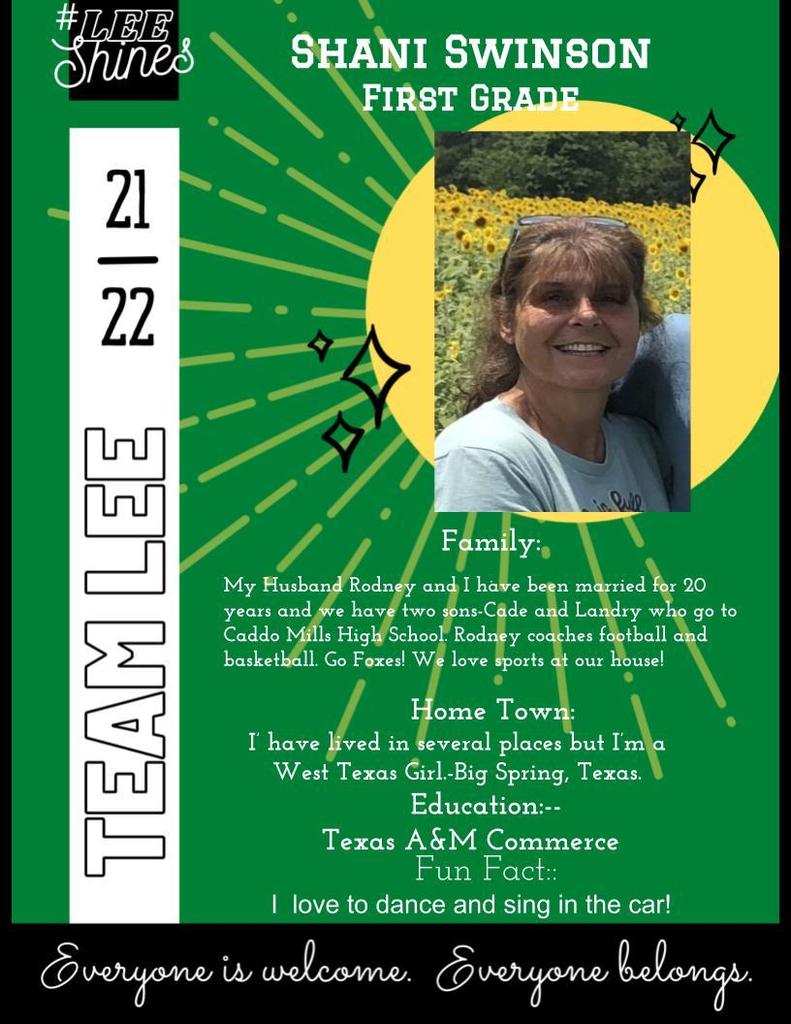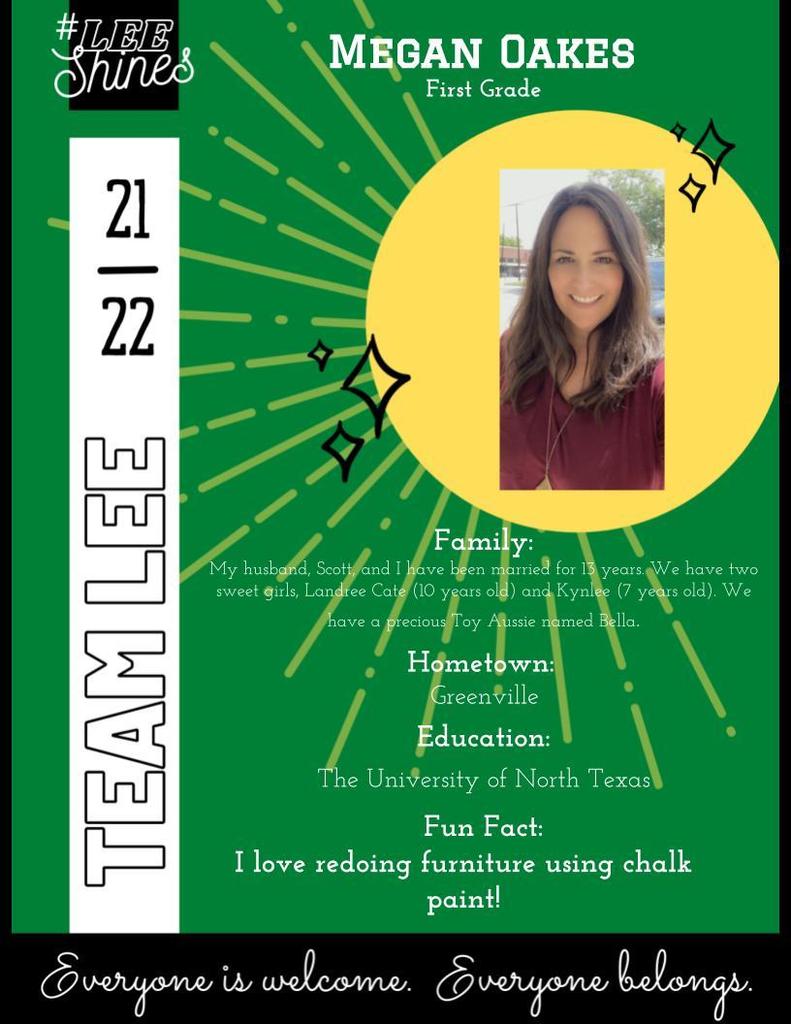 We hope you can join us! Remember to park on the side and walk to the playground.
Our Pre-K team is excited to meet all of our youngest foxes!! They are ready to start another successful school year.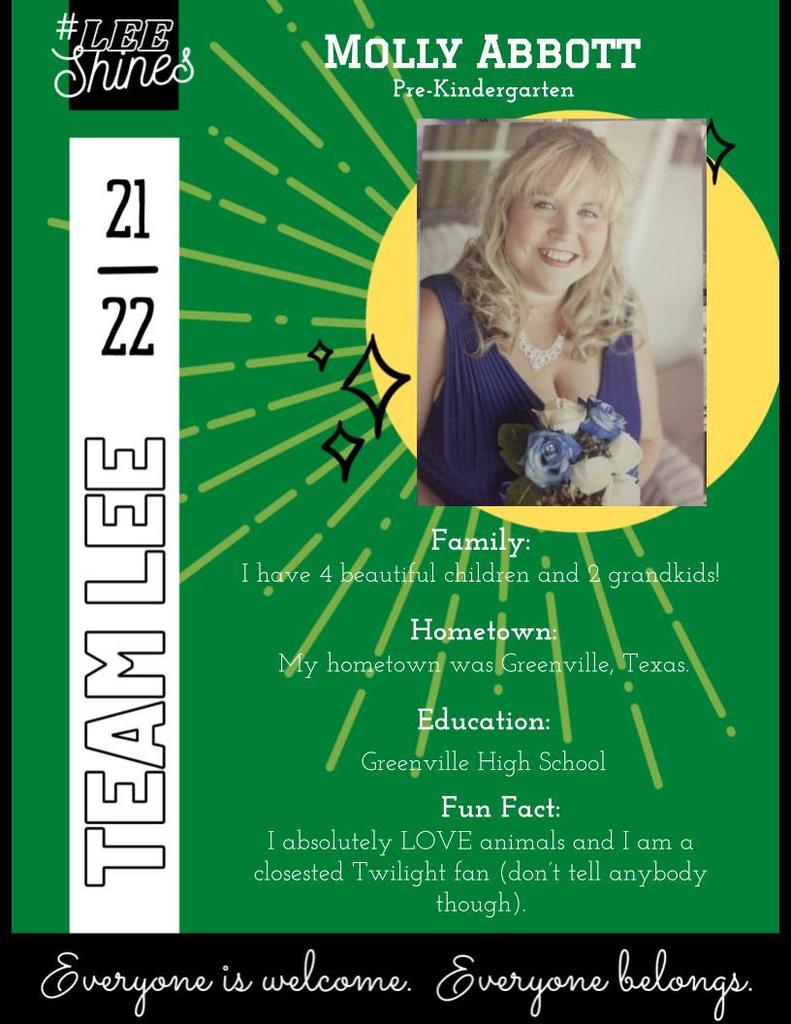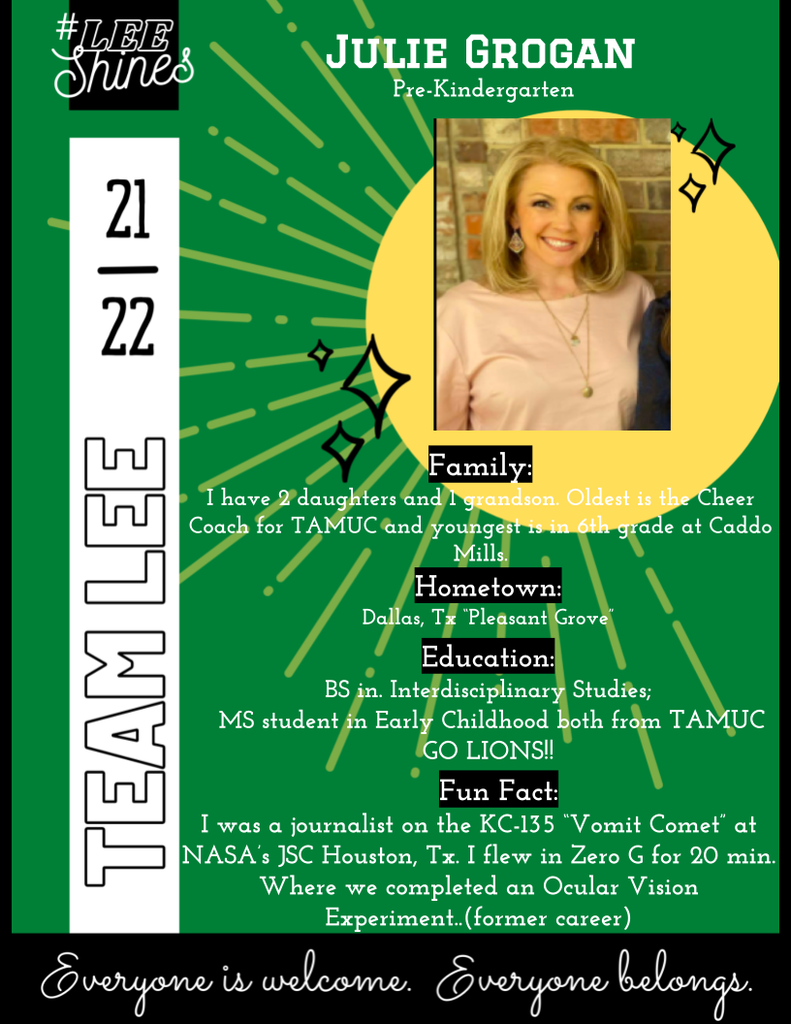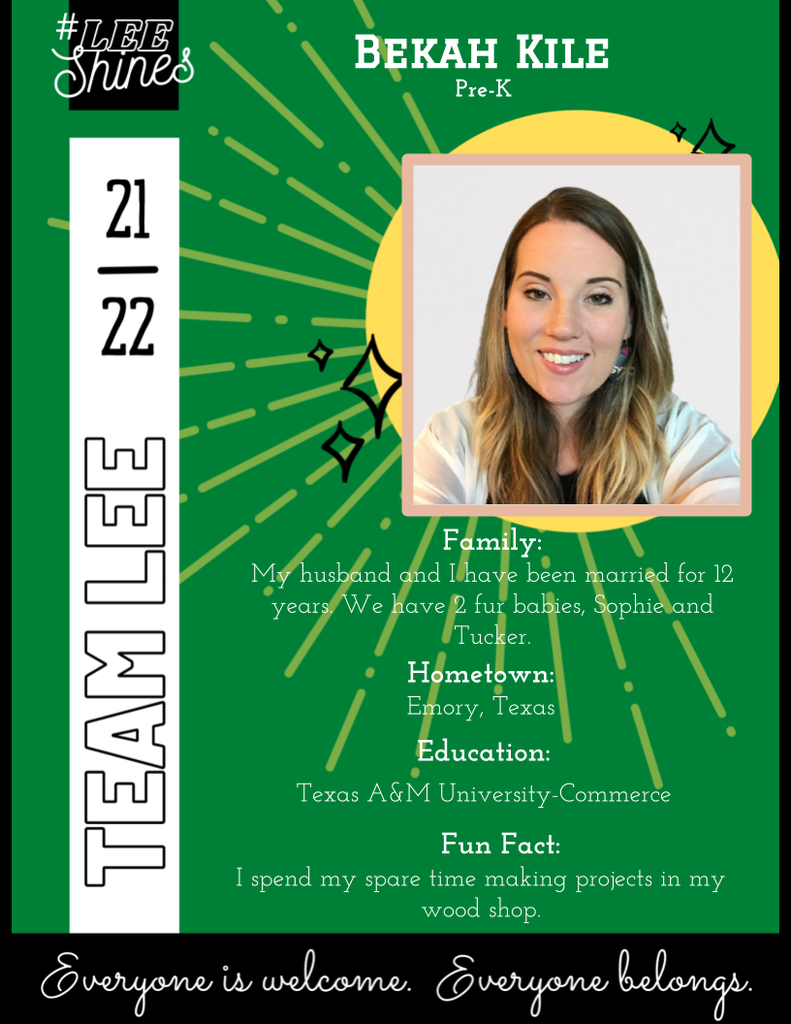 We would like for you to meet our excellent Dyslexia teachers. Mrs. Moore and Mrs. Crane provide Multi-Sensory Therapy for students in our Dyslexia program.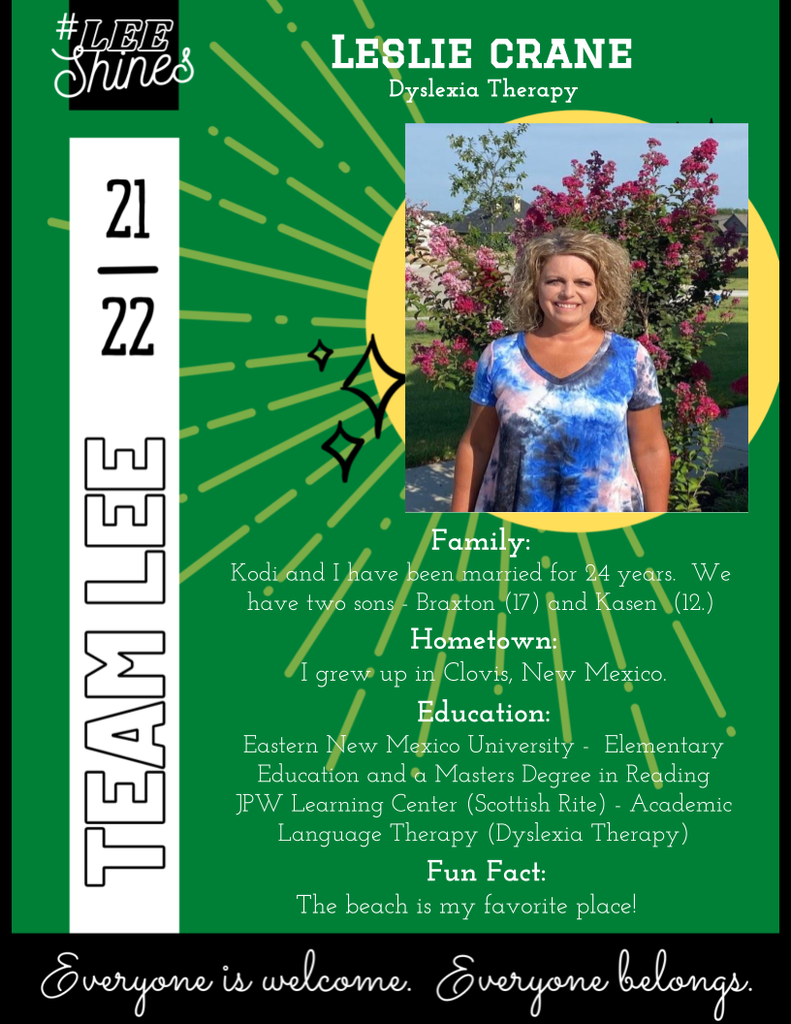 We have an amazing reading intervention team at Lee Elementary. Students recieve reading intervention to supplement their core instruction.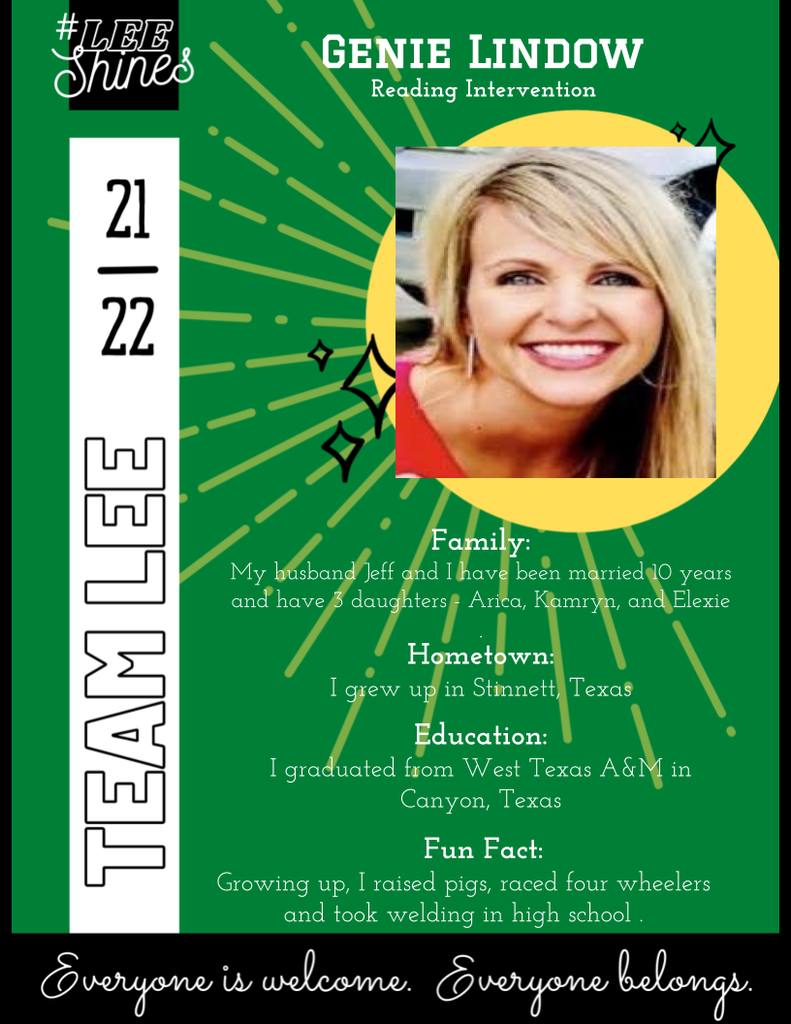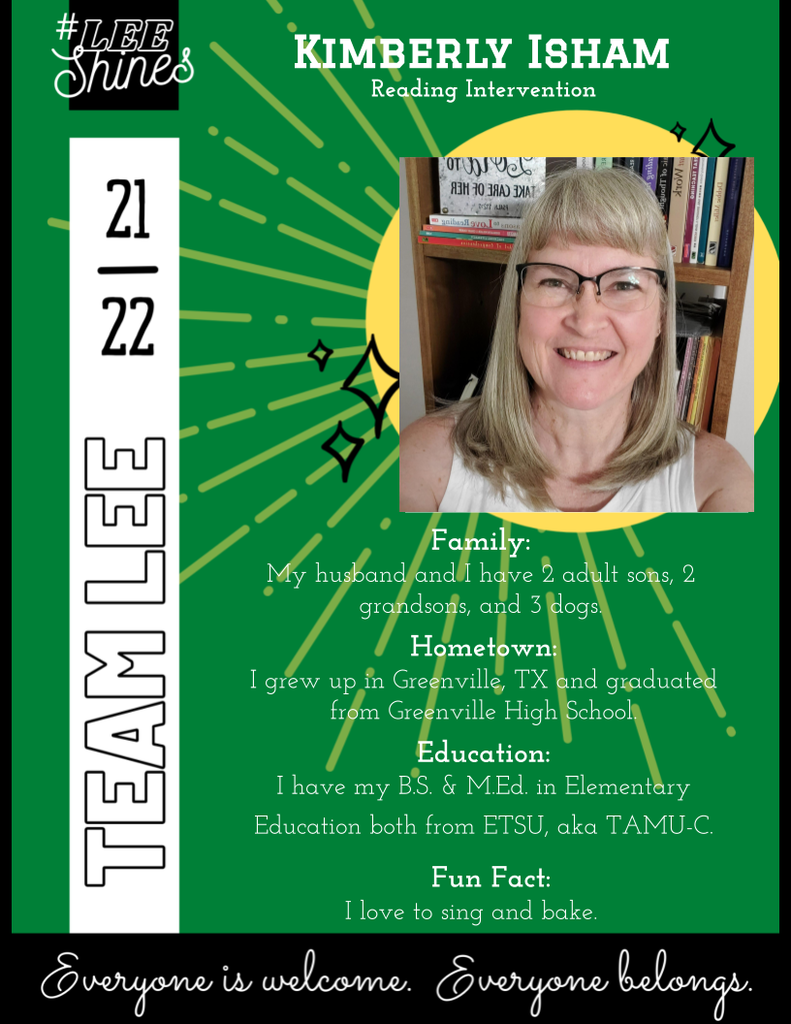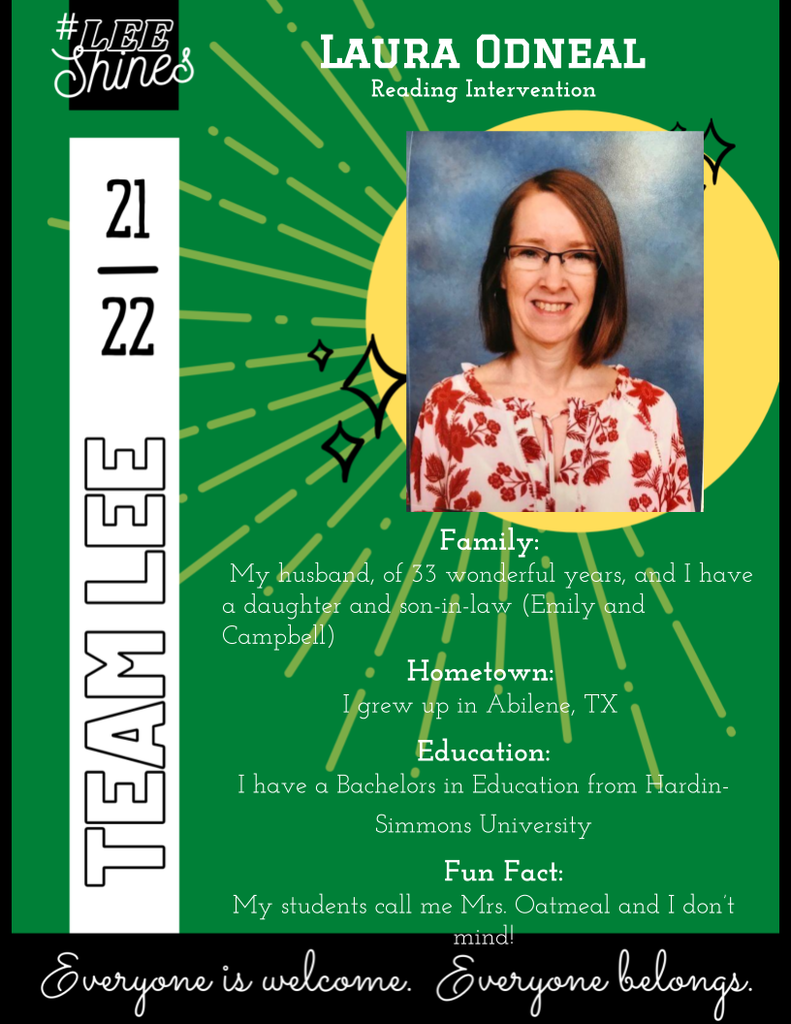 We would like to introduce our Kindergarten Team. Our Kindergarten teachers are excited to meet your FUTURE FOXES!!