Fox Fans, It is really important everyone follows all UIL protocols at tomorrow night's game. Please wear face coverings and maintain social distancing at all times while in the stadium. Available seats in the bleachers are marked with a Texas Fox sticker. Please use these stickers as a reference for available seats. Passes of any kind will not be allowed, you must have a ticket to enter. If tickets are copied or screenshotted and shared with another fan, the ticket will only be good once. If two people try to use the same ticket the second person to use it, even if they are the original purchaser, will not be allowed into the game. Please do not copy, screenshot or share tickets. Come early, be loud and root for a Fox Homecoming Victory
The non-district Varsity volleyball game scheduled for this Friday vs. Greenville has been cancelled. Both JV and Freshmen teams are still playing!! JV starts at 4:30, Freshmen start at 5:30. Come out and support your Lady Foxes!
High School students participating in school spirit days. #CMHS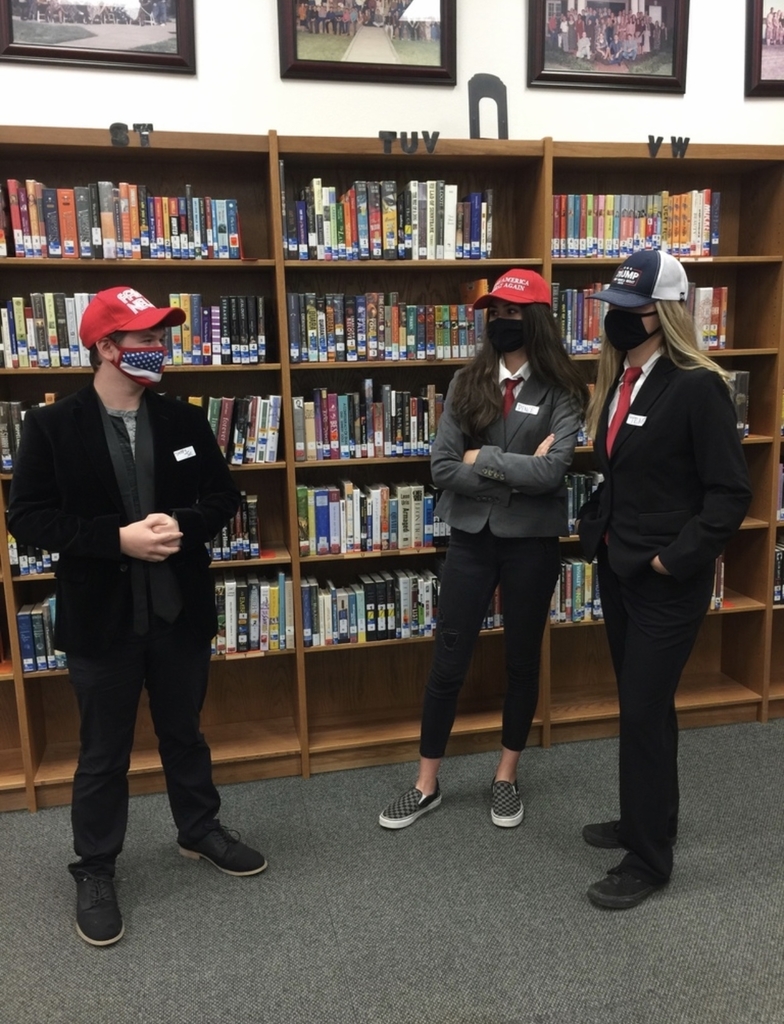 Congratulations to our Varsity volleyball team for bringing home a big win last night vs. Kaufman! The Lady Foxes next district game is Tuesday at home vs. Farmersville. Come pack the stands in support of the Lady Foxes!
Information on See You At The Pole

Student progress reports are now available online in the Parent Portal.
Fox Fans, We need to inform you that all HS football games vs Waxahachie Life have been cancelled. Their AD called this morning to inform us that their JV/Freshmen were not coming tonight and they would not be hosting our varsity tomorrow. We are currently looking for a last minute replacement for the games, and will inform you if we find one. Tickets purchased for all games will be refunded minus the fee paid to the digital ticketing company.
Tickets for this Friday Night's Game in Waxahachie will go on sale Tuesday September 15th at 9 am. Please use the following link lifemustangsathletics.com - Click the tickets tab to purchase in the top right hand corner of the homepage.
School pictures for freshmen, sophomores and juniors will be taken on the morning of 10/8. Please make sure to come to school prepared to take your photo for the yearbook! Online learners will take their photos from 7:00-7:30 in the high school gym. All on-campus learners will take their photos beginning in 1st period.
Senior portraits will be taken on the morning of 11/19. Seniors, please come to school prepared to take your photos! Online senior learners will take their photos from 7:00-7:30 in the high school gym. All on-campus senior learners will take their photos beginning in second period.
Info for High School Football Tickets Below!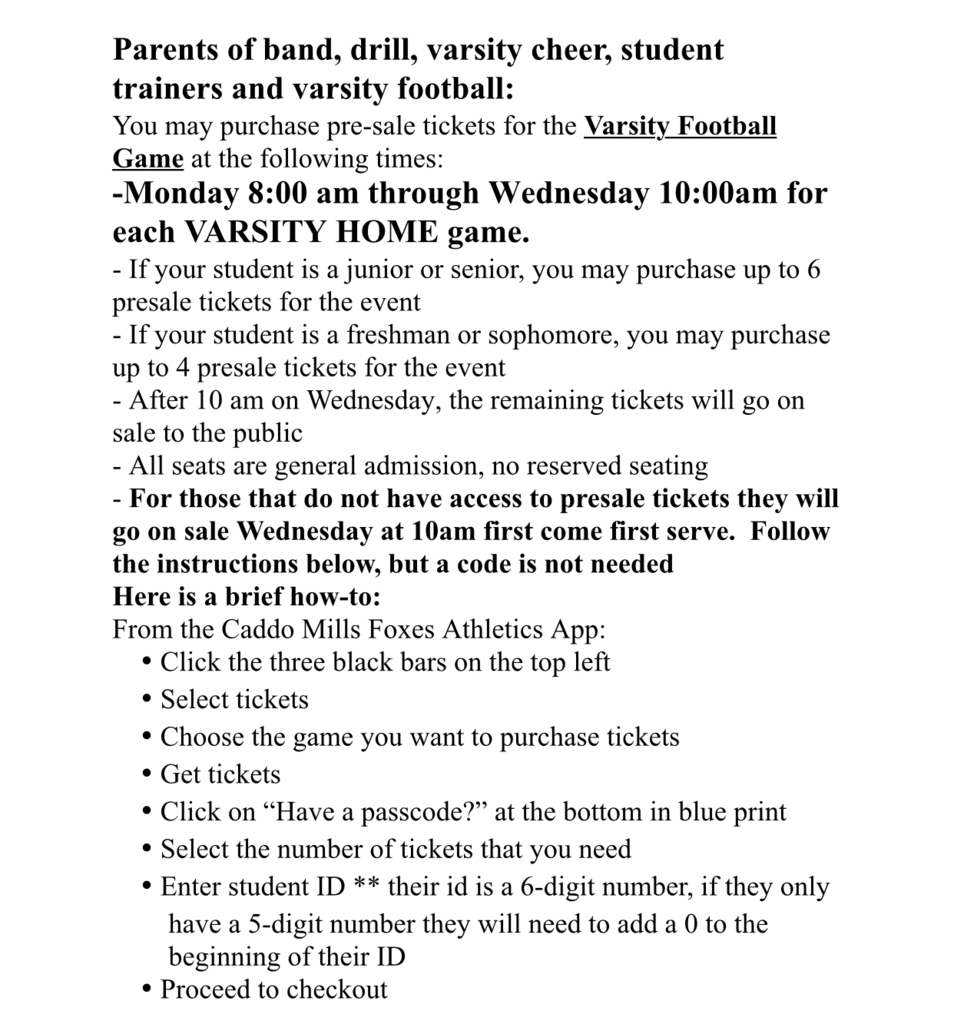 Fox Parents, We need your help! Please follow all UIL protocols at both our Thursday and Friday night football games. This week the UIL came out with updated mitigation for football games. After the first week of Texas High School Football the UIL saw a huge problem with face coverings and social distancing. Please understand as far as the UIL is concerned All employees, parents, visitors and students ten years of age or older must wear face coverings or face shields upon entry to an area where UIL activities are being conducted and when not actively practicing or playing in the contest. The statement continues when entering, exiting, and at the concession stand avoid crowds, and during the game sit 6 feet apart. In the stadiums where we play there aren't any bad seats, please do not crowd the middle of the stands. Separate yourselves and sit 6 feet away from your fellow spectators. In the mitigation sent out this week the UIL stated when they see evidence of crowds are not following UIL protocols individual schools are subject to sanctions, including suspension of contests or discontinuation of public access to games, by the local UIL District Executive Committee and/or UIL State Executive Committee. Please help us by wearing your mask and social distancing in the stands to give our kids the best chance for a full, complete season. Thank you, Kodi Crane Athletic Director/Head Football Coach

9/4 Spirit Day!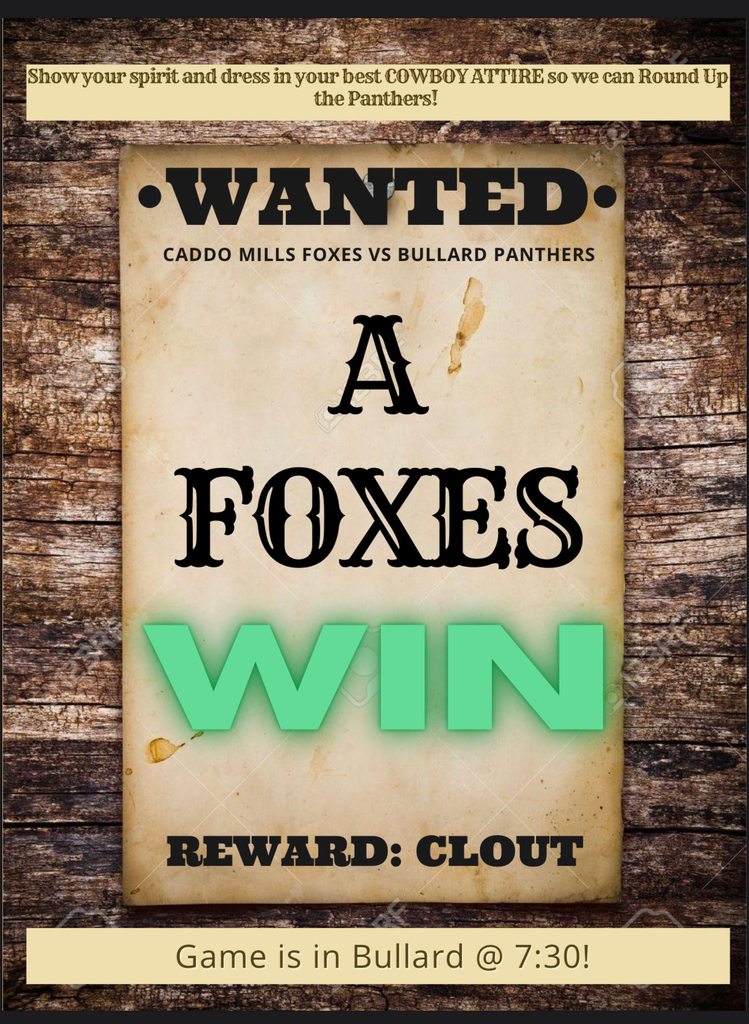 School pictures for freshmen, sophomores and juniors will be taken on the morning of 10/8. Please make sure to come to school prepared to take your photo for the yearbook!
Tickets for this Friday Night Football Game in Bullard will be sold from our administration building at 100 Fox Lane for community members to purchase. No online tickets will be sold this week, paper tickets only. There will not be any tickets sold onsite, presale only. There is no student ticket price. All tickets sold will be $5 Sale times: Tuesday 8am - 12 noon Wednesday 12 noon - 4 pm Thursday 12 noon - 4 pm Friday 8 am - 12 noon Students may purchase tickets beginning Wednesday during lunches only.
We are so excited to have a high school yearbook this year and we want your help! Share photos you take with us and they may be chosen to be included in this year's book! Photos can be uploaded to our private yearbook site:
https://images.jostens.com/415468491
.
Congratulations to the girls and boys cross country runners as they competed in Kaufman today. Top 10 finishers include Jolea Crow, Mattison Campbell, and Chance Anderton. Top 5 Caddo Mills runners: Girls: Jolea Crow                   3rd Mattison Campbell    10th Mattie Poteet.            21st Jacey Sharkey.          28th Jill Munson.               40th Boys: Chance Anderson.     9th Jonah Bremer.           12th Corbin Remkus.         13th Eli Smelley.                 24th Pablo Soria.                25th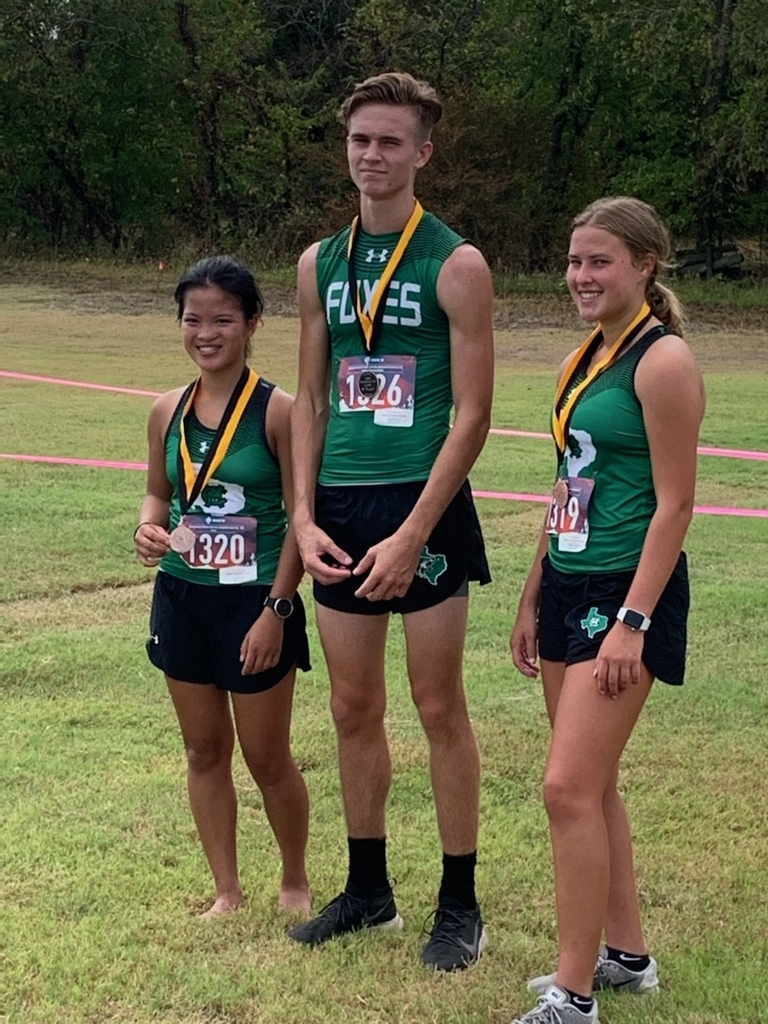 Parking passes are on sale NOW! The cost is $10 and students must bring their drivers license, insurance, and $10 cash or check to the school to purchase. Students may purchase before or after school only.
Congratulations to our JV and Varsity volleyball teams for dominating Wills Point last night! Varsity went 3-0 and JV went 2-0. The Lady Foxes will take on Van Alstyne on Friday night.